This is an archived article and the information in the article may be outdated. Please look at the time stamp on the story to see when it was last updated.
Which dishwasher is better: Bosch or Whirlpool?
Bosch and Whirlpool are two high-end brands that offer high-quality dishwashers with state-of-the-art technology. These modern appliances come loaded with features, many of which streamline the dishwashing process. There are a lot of similarities between these brands, but they differ when it comes to the build quality, size, cleaning power and design.
Bosch dishwasher
Bosch was founded by Robert Bosch in 1886. The company first started creating tools, such as Bosch impact drivers and vehicular parts. Eventually, it switched gears and began producing appliances and other technologically-advanced gadgets for people. Today, Bosch offers everything from refrigerators to washing machines.
The company's dishwashers are high-quality, quiet and energy-efficient. Many of the newer models are also considered smart appliances and can pair with other smart devices through Home Connect. With stainless steel in many of the designs, these machines give off a feeling of luxury and durability.
Most Bosch dishwashers are full-sizes and come with such features as third racks, adjustable organizational systems and advanced cycles. This makes them perfect for both busy and large households where efficiency is key.
Higher-tiered dishwashers usually cost $1,500-$2,000. Less expensive models range from $500-$1,000.
Bosch dishwasher pros
Most models come with a large stainless steel tub that is durable and can last for many years.
Some come with smart technology, Home Connect, which can be connected to other smart devices for a streamlined, uninterrupted home system.
They're full-sized, which is great for larger households or those who prefer to run the dishwasher infrequently.
Many have basic and specialty settings, including fragile glassware, eco-friendly and SpeedPerfect cycle.
They are sleek and fit in well with minimalistic and modern homes.
Many have an adjustable organizational system, including a third rack that's movable.
The dishwashers have some of the quietest cycles.
Newer models are energy efficient.
There are different handle designs to choose from.
Most come with modern technology, such as 24/7 Aquastop (prevent leaks) and CrystalDry (fast-drying after the cycle).
Bosch dishwasher cons
Some are expensive, though they come with many advanced features.
If overfilled, food particles could transfer or the dishes might not fully dry.
There are a lot of controls and cycles for those who want something simpler.
Not all dishwashers use a heating system to dry dishes.
Best Bosch dishwashers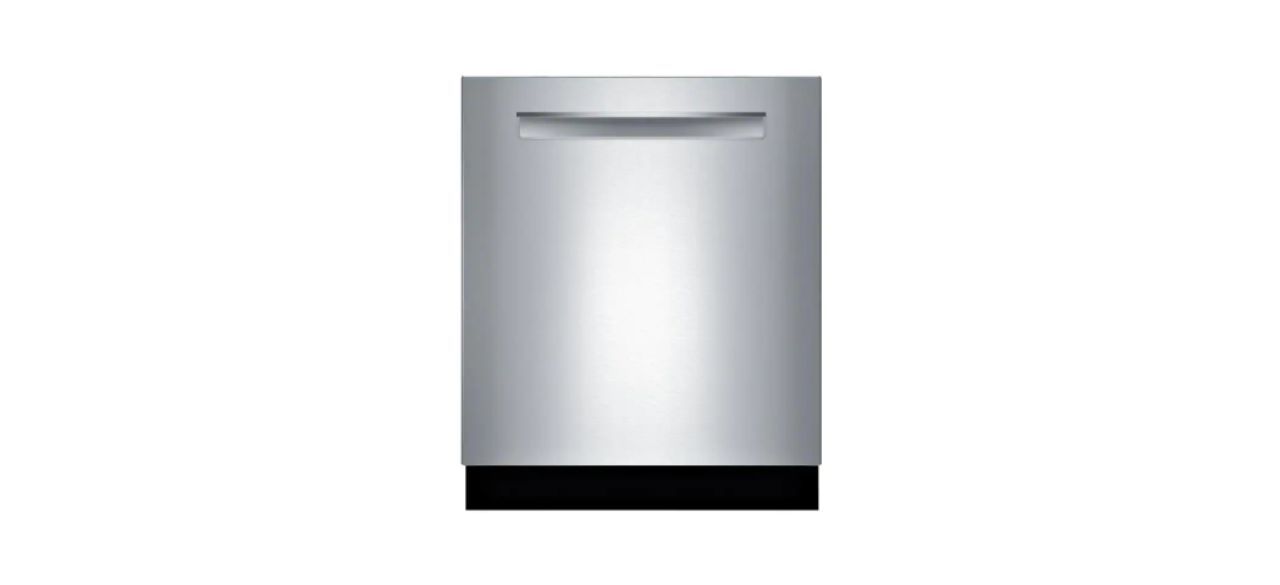 Bosch 500 Series 24-Inch Stainless Steel Top Control Tall Tub Pocket Handle Dishwasher
This top control dishwasher comes with PrecisionWash that thoroughly cleans grime and dried food from dishes. It features AutoAir, which lets the appliance open the door to more efficiently dry dishes once the cycle is done. It's available in white or stainless steel.
Sold by Home Depot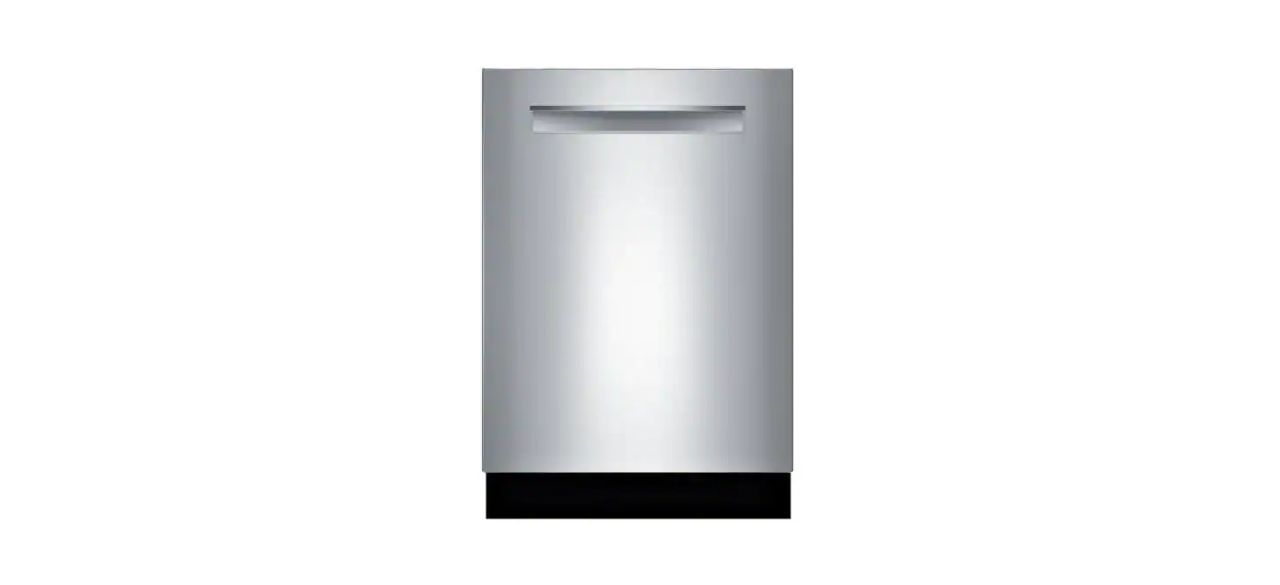 Bosch 800 Series 24-Inch Stainless Steel Top Control Tall Tub Dishwasher
Energy Star-certified, this powerful energy-efficient appliance has smart sensors that automatically track how clean the dishes are throughout the cycle. It comes with advanced features to dry and sanitize all types of dishes. Plus, it has an adjustable rack that makes it easier to fit the most amount of cups, plates, glasses, silverware and more.
Sold by Home Depot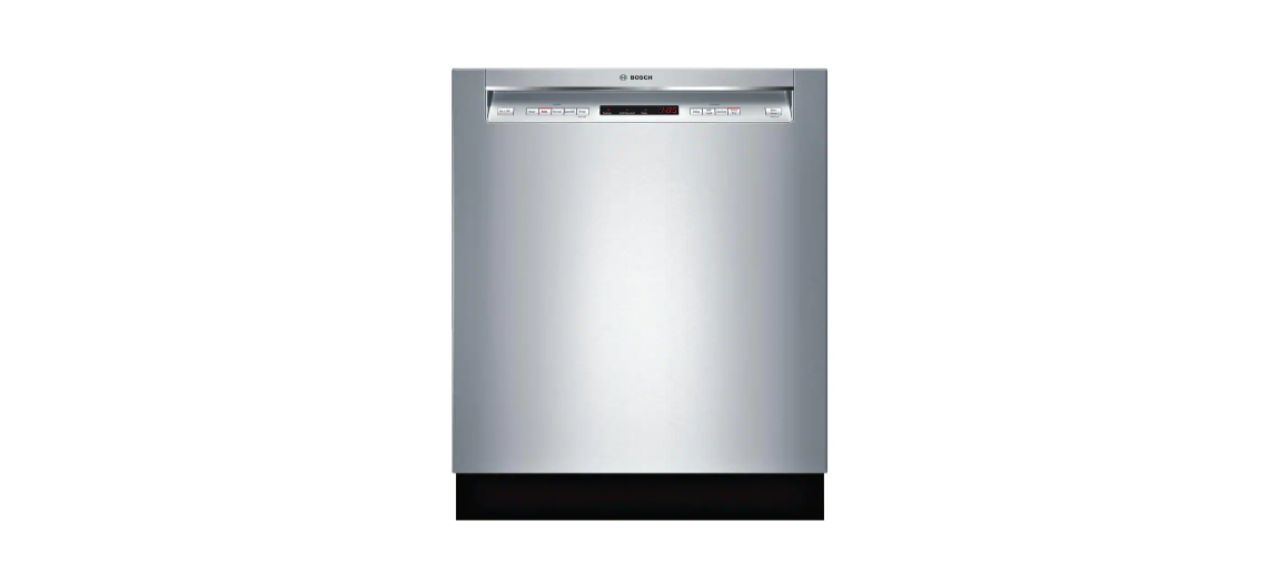 Bosch 300 Series 24-Inch Stainless Steel Front Control Tall Tub Dishwasher
With five dishwashing cycles and four settings, such as sanitize and delay start, this appliance is perfect for busy households. It's sleek and available with different handle designs. The middle rack is adjustable so you can organize your dishes effectively.
Sold by Home Depot
Whirlpool dishwasher
Whirlpool's contemporary dishwashers come with modern features and cycles to meet your dishwashing needs. Founded in 1911 in Benton Harbor, Michigan, during wartime, the company started with the goal of improving people's home life by offering modern appliances. By 1970, it had many appliances, including refrigerators, washers, dryers and dishwashers.
Today, Whirlpool also manufactures and designs microwaves, wall ovens, ranges and more. The company's newer dishwashers come with a stainless steel tub and advanced hidden controls. The largest one even comes with an additional third rack that allows for extra space and organization.
Most Whirlpool dishwashers cost under $1,000.
Whirlpool dishwasher pros
They come with many modern features and cycles, including normal, Sani-Rinse, High-Temperature Wash and 1-Hour Wash.
Most models are budget-friendly.
They use sensors to automatically determine the best cleaning cycle for the load.
Some models have an adjustable second or third rack.
The designs are stylish, modern and have a smudge- and fingerprint-resistant finish.
Many are Energy Star certified to save power.
Some are quiet enough to be run at night.
The spray arm ensures that every dish is rinsed evenly for a thorough cleaning.
Some dishwashers have an exposed heating element at the base of the tub to help dry the dishes.
Whirlpool dishwasher cons
The traditional heating element could melt plastic dishes on the bottom rack.
Some models are constructed from plastic, resulting in lower build quality.
The third rack only fits flat or small items.
Some dishwashers are loud.
Dishes are often still wet after the cycle ends.
Best Whirlpool dishwashers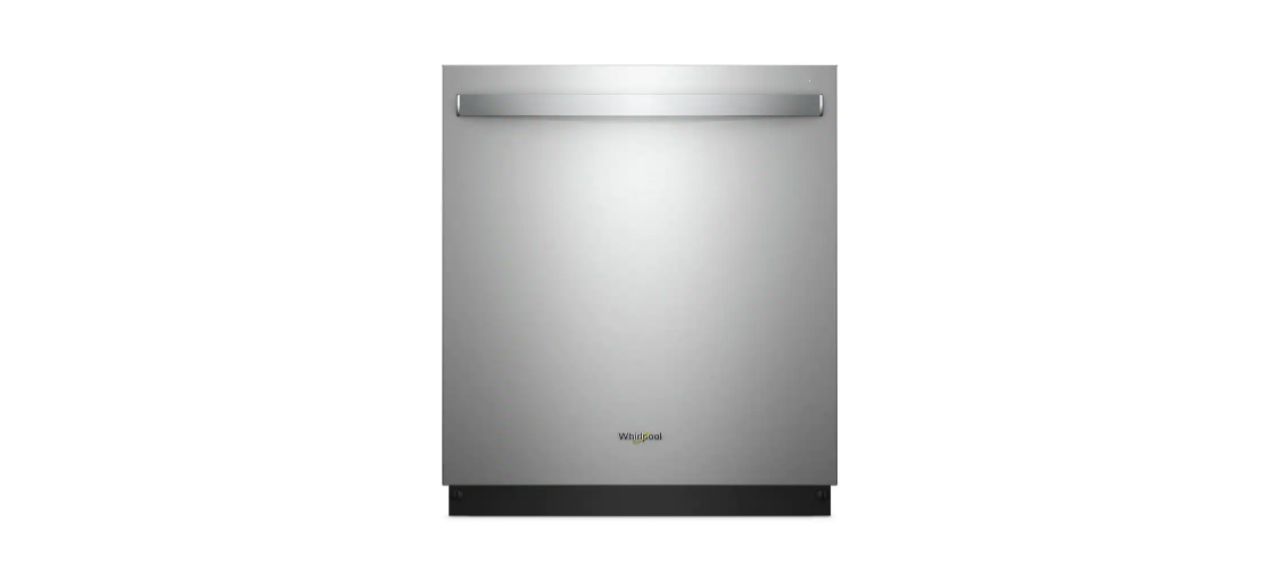 Whirlpool 24-Inch Fingerprint-Resistant Stainless Steel Top Control Dishwasher
Sleek and modern, this dishwasher has a third rack and a tall stainless steel tub that can fit up to 37% more dishes than standard models. It is relatively quiet and can be run at night with minimal disruption. It has a powerful spray arm that comes with twice the number of jets for more even and complete coverage. It also comes with a cycle status indicator that displays where it's at in the cycle and how much time remains.
Sold by Home Depot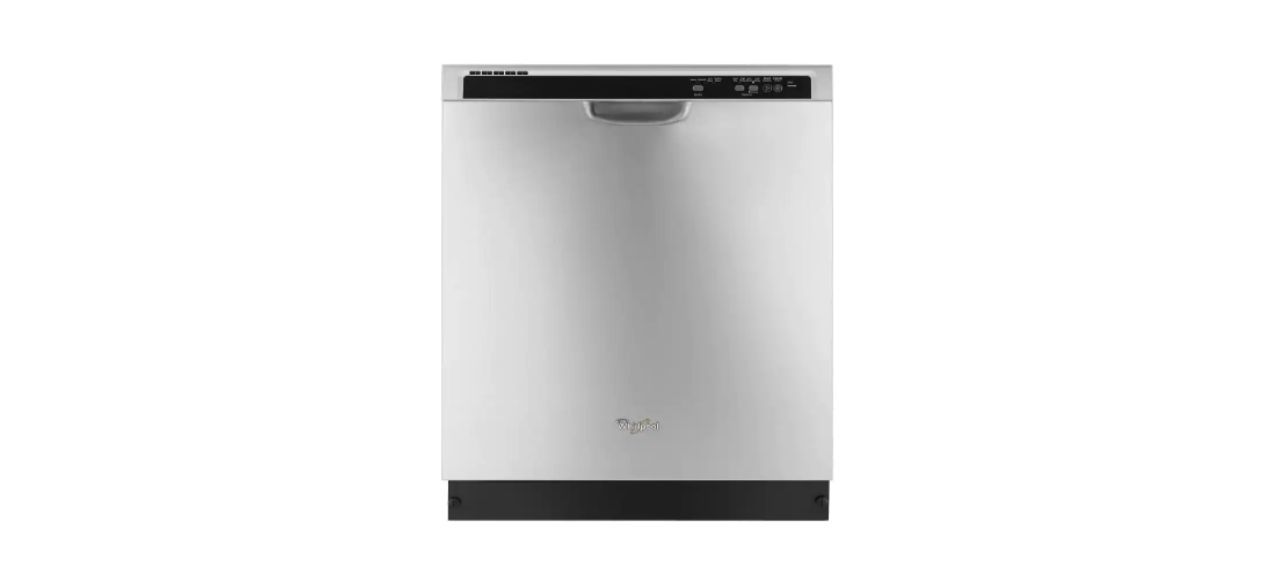 Whirlpool 24-Inch Monochromatic Stainless Steel Front Control Built-In Tall Tub Dishwasher with 1-Hour Wash Cycle
With three colors to choose from, this Energy Star-certified dishwasher is large enough to accommodate dishes of all sizes with ease. Although plastic, the tub is durable and easy to clean. The front controls are convenient to use and include settings such as Sani Rinse, which can eliminate bacteria.
Sold by Home Depot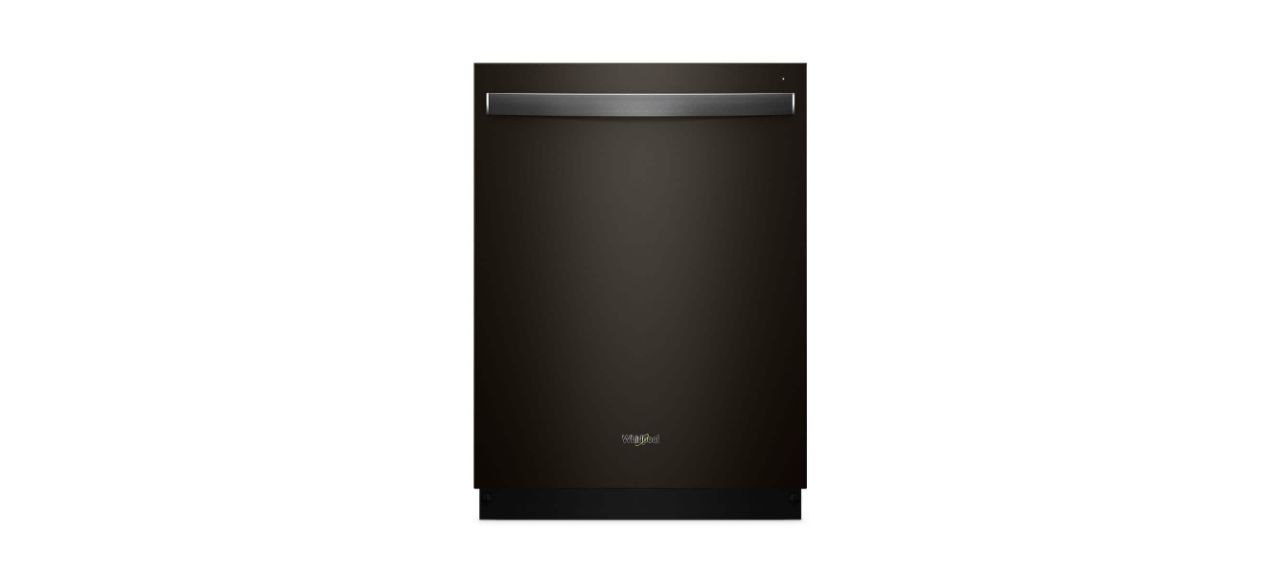 Whirlpool 24-Inch Fingerprint-Resistant Stainless Steel Top Control Built-In Tall Tub Dishwasher with Fan Dry
This dishwasher comes in black or stainless steel, both of which are resistant to fingerprints and smudges. It's Energy Star-certified to cut down on power use. It has a light-up display, so you can see the current cycle and how much time remains without needing a separate light. This model also features Cycle Memory, which remembers and automatically sets the next cycle based on the previous one. It also has a Soil Sensor, which can adjust the current cycle to remove any remaining food particles.
Sold by Home Depot
Should you get a Bosch dishwasher or a Whirlpool dishwasher?
Both Bosch and Whirlpool have high-performance dishwashers that can hold a lot of dishes and clean and sanitize them. These appliances have a sleek aesthetic that fits into any modern or smart home. They also have different cycles and settings for specific types of loads.
If you want a heavy-duty, long-lasting dishwasher that's designed with innovative features and quiet enough to be run at night, consider Bosch. However, if you're looking for a dishwasher at a lower price point that still offers the essentials, Whirlpool is a good choice.
Want to shop the best products at the best prices? Check out Daily Deals from BestReviews.
Sign up here to receive the BestReviews weekly newsletter for useful advice on new products and noteworthy deals.
Angela Watson writes for BestReviews. BestReviews has helped millions of consumers simplify their purchasing decisions, saving them time and money.
Copyright 2023 BestReviews, a Nexstar company. All rights reserved.