This is an archived article and the information in the article may be outdated. Please look at the time stamp on the story to see when it was last updated.
Computers are expensive to maintain if you want to keep them updated with the latest technology. Several components, such as the central processing unit and the graphics card, can boost your PC's performance so you can play the latest video games or create resource-intensive content.
However, it would be a shame if you spent hundreds of dollars on upgrades only for dust particles to gather on the components and cause them to stop working. You can use several gadgets to keep them in the best shape, such as a computer vacuum, and these also work well for accessories, such as keyboards, monitors and smaller electronics.
In this article: XPOWER A-2 Cyber Duster, Meco Keyboard Cleaner with Cleaning Gel and Metro Vac Electric DataVac Pro Series.
Make dust a thing of history
A computer tower is rarely moved to a different part of the house, so the static location is highly conducive for dust collection. It's easy to overlook any particles on your computer, as it usually takes a few weeks for them to be noticeable.
However, if you don't regularly give your computer, monitor or keyboard a wipe-down, the dust gathers in all the nooks and crevices. Over time, the particles become sticky, which makes it even harder to clean and affects your PC's performance.
Electronics are susceptible to temperature changes, and any dust that blocks outward air vents or hampers fresh air flow into the machine can cause real damage. When heat from the components has nowhere to go, it raises the internal temperature. This reduces their effectiveness, slowing down your machine and causing long-term damage.
Dust is just as bad for keyboards and mice. When it gets in between the keys, it makes them sticky and reduces their functionality. While mice are mostly optical now (instead of using balls), dust can still stick on the buttons.
Best computer vacuums that are a breath of fresh air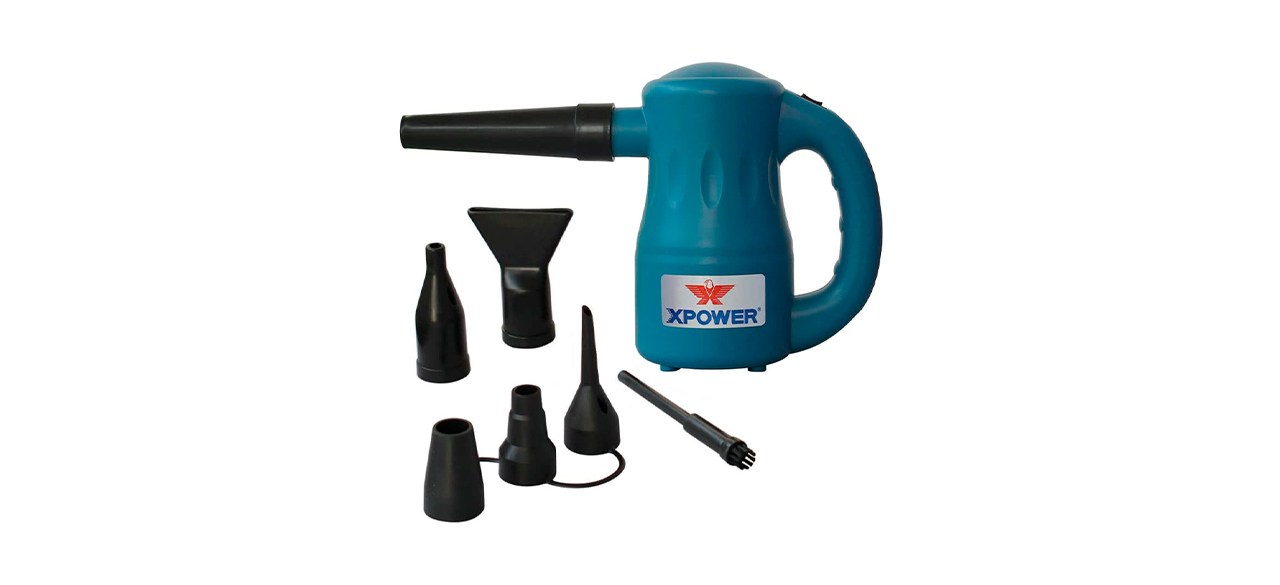 Dust and unwanted particles don't stand a chance with this super-powerful blower. It comes with six attachments for banishing dust in different places and has three airflow settings. There is a washable filter and thermal protection, and it doesn't expel toxic air. It is powerful enough to blow up air mattresses, dry pets and furniture and inflate tires.
Sold by Amazon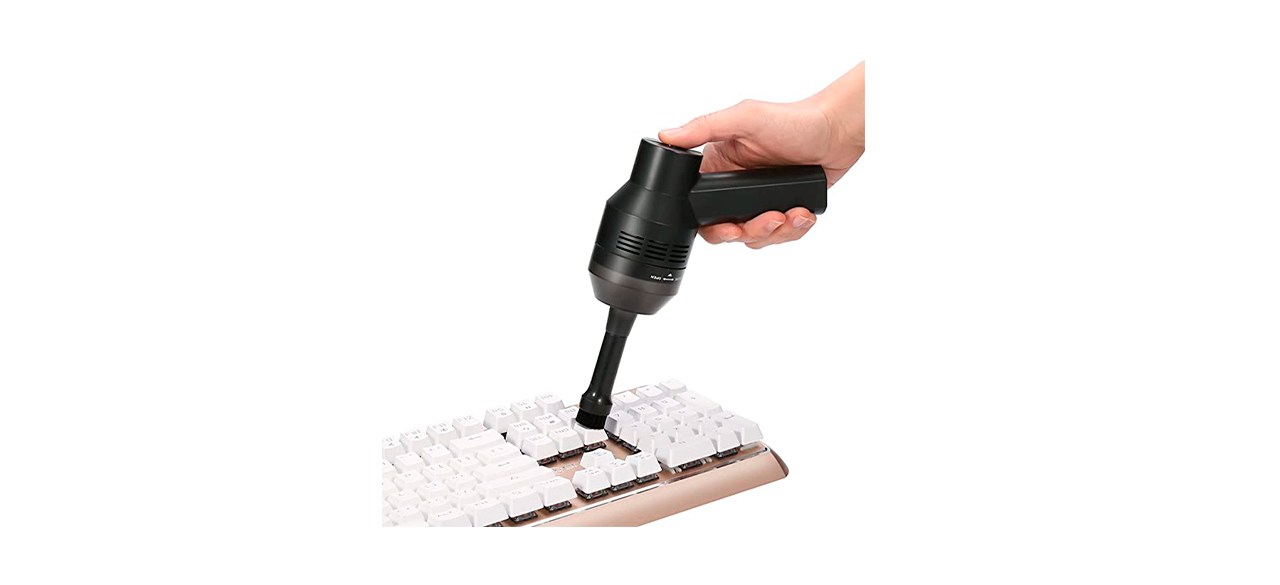 Meco Keyboard Cleaner with Cleaning Gel
Effectively removing small particles and larger ones alike, this cordless vacuum has a 2000mAh Lithium-ion battery that lasts several hours. The suction is strong enough to remove dust and hair from mechanical keyboards with the bristled attachment while the flat attachment is perfect for tight spaces.
Sold by Amazon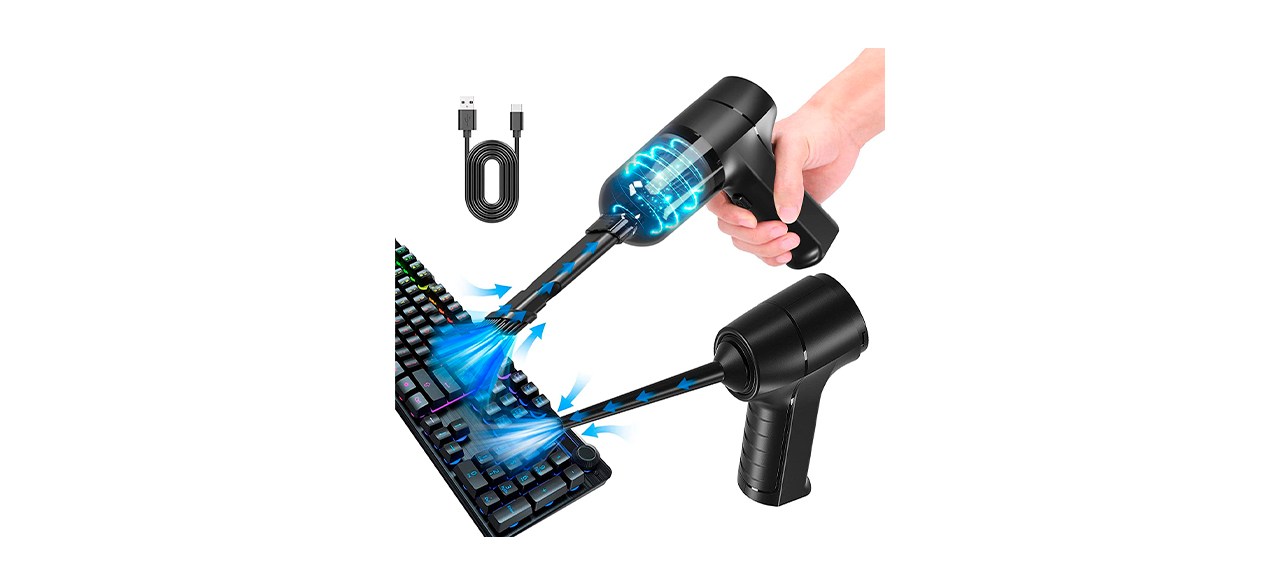 This gadget is a good choice for deep cleaning your keyboard, as well as your car. The strong motor picks up the smallest of particles and functions as a blower, too. It comes with various attachments for getting into different electronics.
Sold by Amazon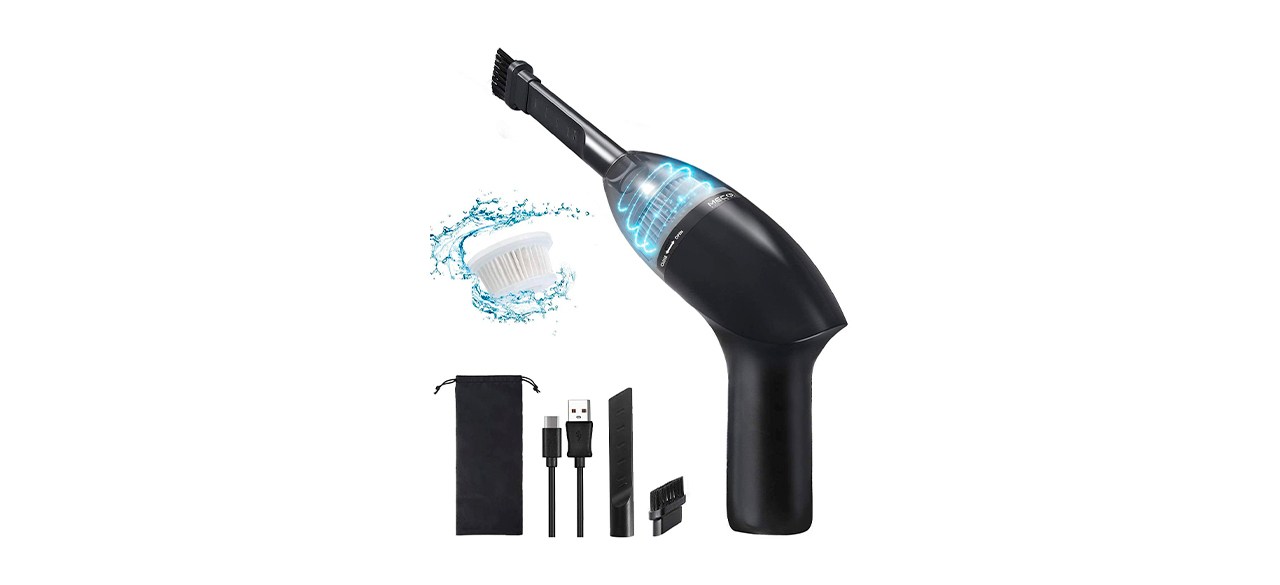 Meco Rechargeable Mini Vacuum Cleaner with LED Light
This handheld vacuum has a powerful 4kPa suction motor that effectively rids your electronics of dust, debris, hair and crumbs. It uses a HEP filter that removes 99.6% of dust and prevents secondary pollution. It comes with several nozzles, and the rechargeable battery lasts four hours.
Sold by Amazon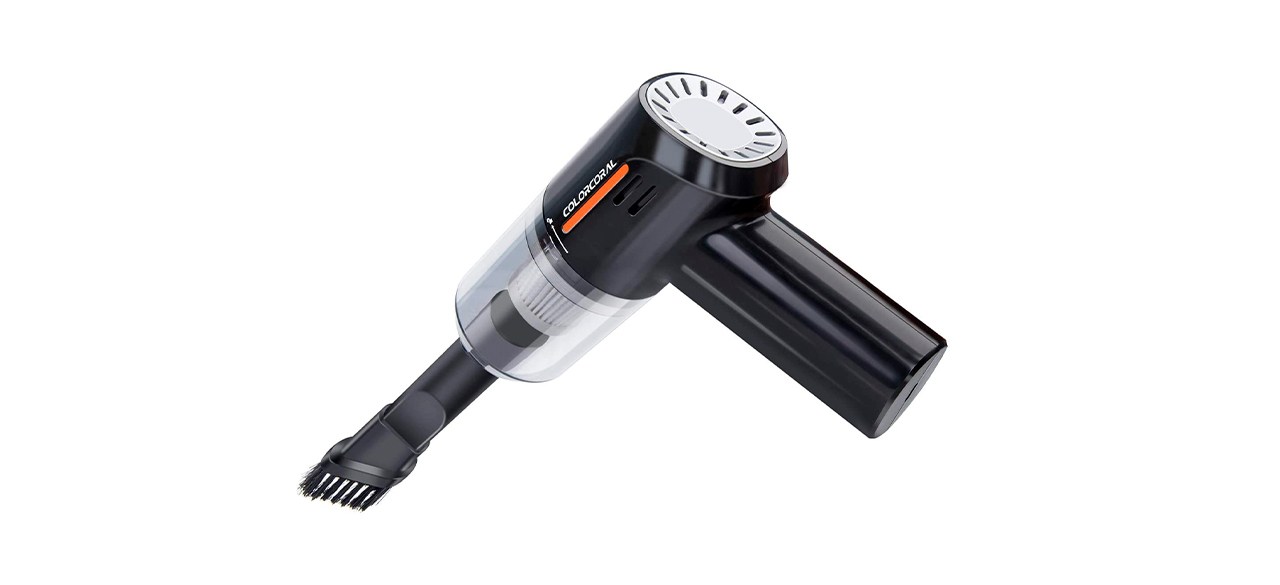 ColorCoral Vacuum Dust Cleaner
This cleaner is specifically designed to remove dust, hair and crumbs from your desk, laptop or mechanical keyboard. It has a powerful 60-watt motor and comes with a washable HEPA filter so that it doesn't release microscopic particles into the air. The rechargeable battery lasts for six hours and can be charged through your computer's USB port.
Sold by Amazon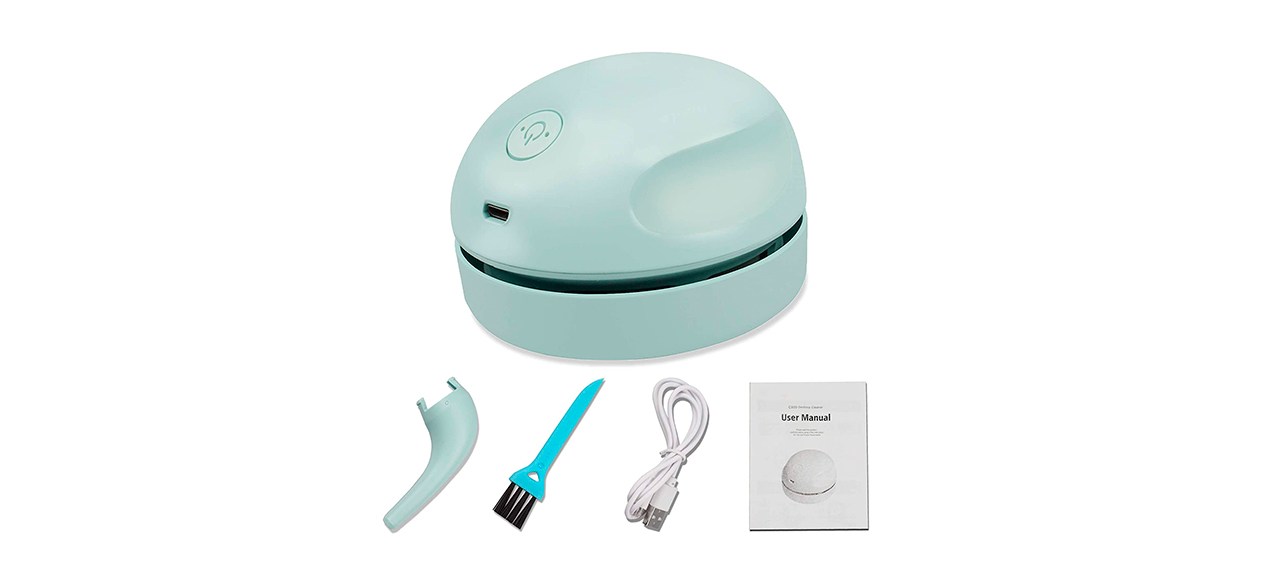 ProWithlin Desktop Vacuum Cleaner USB Charging with Vacuum Nozzle
If you've ever searched for a vacuum cleaner that fits in the palm of your hand, this gadget is your answer. Recharged through a USB cable, it effectively sucks up small particles and dust from your desk and keyboard. It comes with a small brush to loosen stubborn dust and a nozzle attachment for getting in between parts.
Sold by Amazon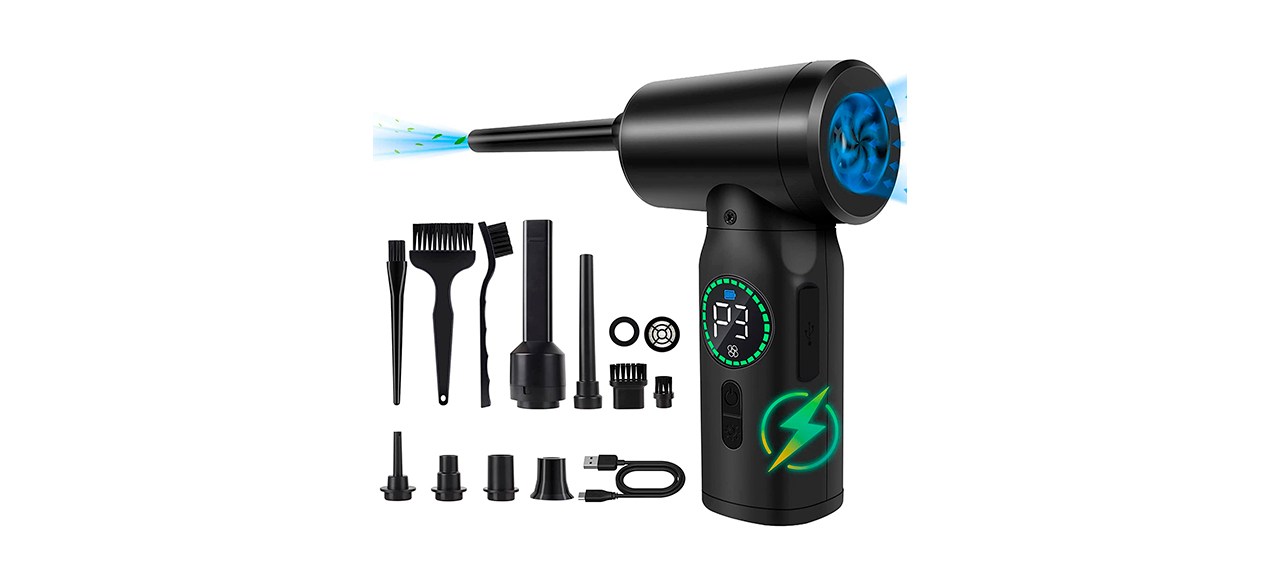 Qindlar Electric Air Duster and Vacuum Cleaner
This two-in-one gadget has a powerful blower that can output 2.5 ounces of air a second. When you toggle the switch, it becomes a vacuum cleaner with several attachments that makes cleaning electronics much easier. It comes with several brushes of varying sizes and is recharged with the included USB cable.
Sold by Amazon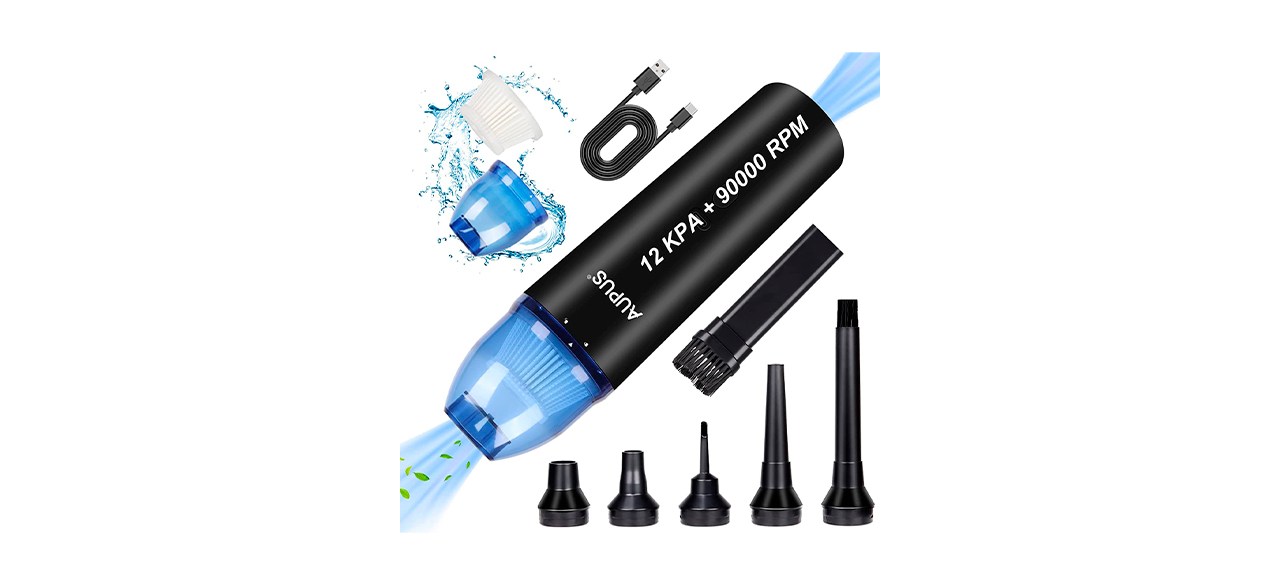 Aupus Cordless Air Duster and Handheld Vacuum Cleaner
This rechargeable duster has three strength settings depending on the gadget you are cleaning and comes with several attachments for hard-to-reach places. By flipping a switch, it can also vacuum. It is recharged with the included USB cable and can also be used to blow up balloons and air mattresses.
Sold by Amazon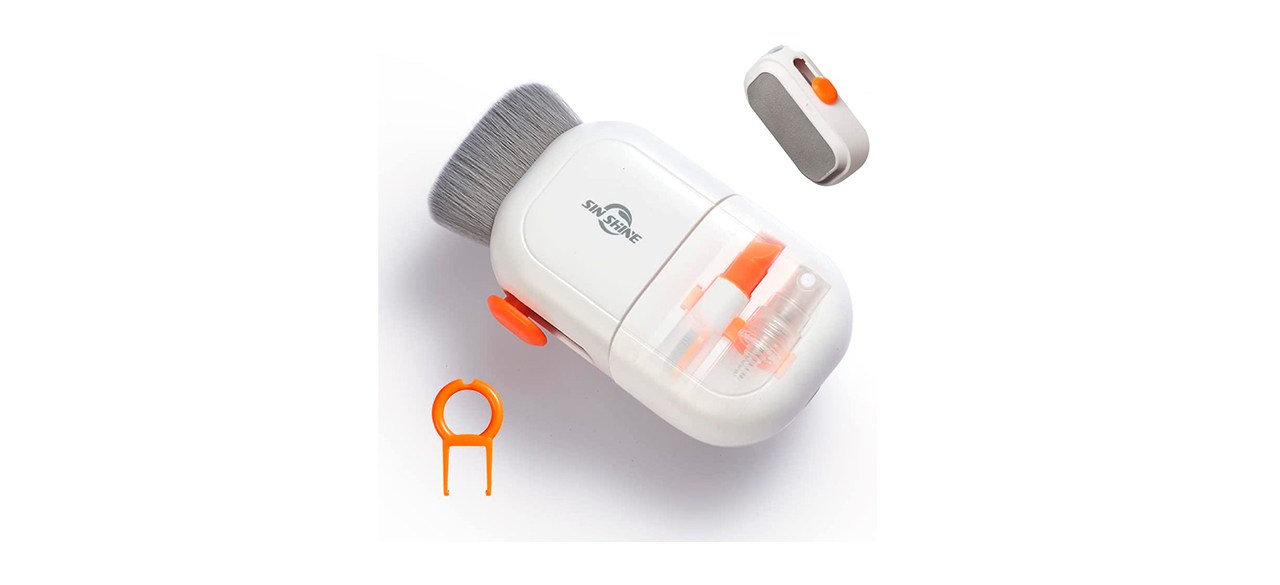 Sin Shine Seven-in-One Electronics Cleaner Kit
This tiny tool is all you need to keep your gadgets in top shape. Everything is contained in a neat holder, making it perfect for keeping in a laptop bag. There is a slider on the left side to pop out the cleaning bristles, and underneath is a microfiber surface. Additionally, it includes a key cap puller, a cleaning spray bottle and a mini brush for tight spaces.
Sold by Amazon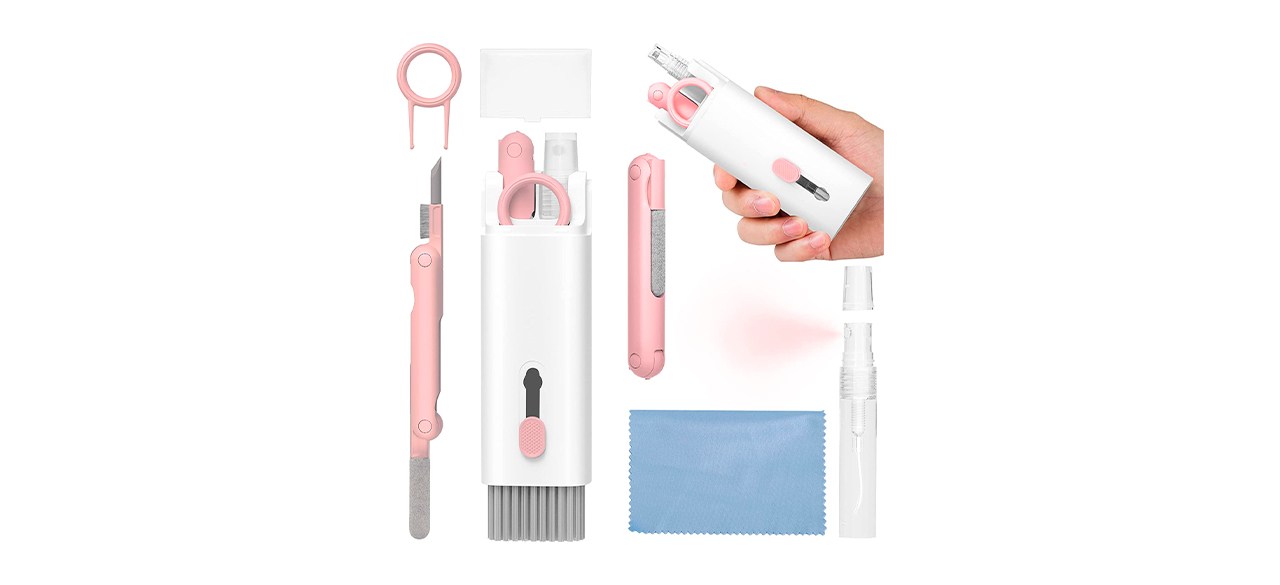 Vubojo Electronic Cleaner Kit for Keyboards and Laptops
This compact kit is the perfect tool for cleaning your keyboard, laptop or earbuds. The tools all fold neatly into a plastic container, making storage a breeze. The kit includes an Airpod cleaning pen with a silicone clip, a flocking sponge and brush, a keyboard key extractor, and screen cleaner spray. It also has a retractable microfiber cloth.
Sold by Amazon
Want to shop the best products at the best prices? Check out Daily Deals from BestReviews.
Sign up here to receive the BestReviews weekly newsletter for useful advice on new products and noteworthy deals.
Charlie Fripp writes for BestReviews. BestReviews has helped millions of consumers simplify their purchasing decisions, saving them time and money.
BestReviews spends thousands of hours researching, analyzing, and testing products to recommend the best picks for most consumers.
Copyright 2023 BestReviews, a Nexstar company. All rights reserved.