This is an archived article and the information in the article may be outdated. Please look at the time stamp on the story to see when it was last updated.
Meet Microsoft's newest and most versatile dock yet
With home and hybrid working more prevalent than ever, many people are looking for sleek solutions to common problems. The recently-released Microsoft Surface Thunderbolt 4 Dock makes your work or creative life easier by letting you easily connect your laptop to as many as two monitors. It also connects and powers various other devices, including phones and webcams, so you can focus on getting stuff done rather than troubleshooting connection issues.
In this article: Microsoft Surface Dock 2, Razer Thunderbolt 4 Dock for Mac and Dell USB3 Ultra HD 4K Triple Display Docking Station
What can you do with the Microsoft Surface Thunderbolt 4 Dock?
The Surface Thunderbolt 4 Dock is a type of laptop docking station. So, if you're familiar with these types of docks, it performs much as expected. You can connect one or two monitors quickly and easily upgrade your workspace. It's compatible with 4K high-definition monitors with refresh rates of up to 60 hertz.
It features a range of other ports, so you can also quickly connect your laptop to printers, scanners or webcams. Moreover, you can attach accessories such as a mouse or a keyboard to turn your laptop into a desktop. It can even charge your laptop and phone.
Ultimately, if you're looking for a way to improve laptop connectivity, whether at home or the office, this dock does it all.
What ports are on the Surface Thunderbolt 4 Dock?
It's important to know what ports a docking station has, so you can ensure it meets your needs. The Surface Thunderbolt 4 has the following ports:
Three USB-A ports (two on the back and one on the front)
Three 3 USB-C ports (two on the back and one on the front)
One 3.5mm audio jack
One ethernet port
Which laptops are compatible with the Surface Thunderbolt 4 Dock?
The Thunderbolt 4 Dock is optimized for use with Microsoft's Surface Pro 9, Surface 5 and Surface Studio laptops. However, it's also compatible with any laptop or tablet with a USB4 port, also known as a Thunderbolt 4 port.
Is the Surface Thunderbolt 4 Dock right for me?
It's up to you to decide whether this is the right dock for you. However, if you have a compatible laptop and are looking for a high-end docking station with fast data transfer speeds, it's a reliable choice. That said, there are plenty of other great laptop docks to choose from, so it's worth shopping around.
Best laptop docking stations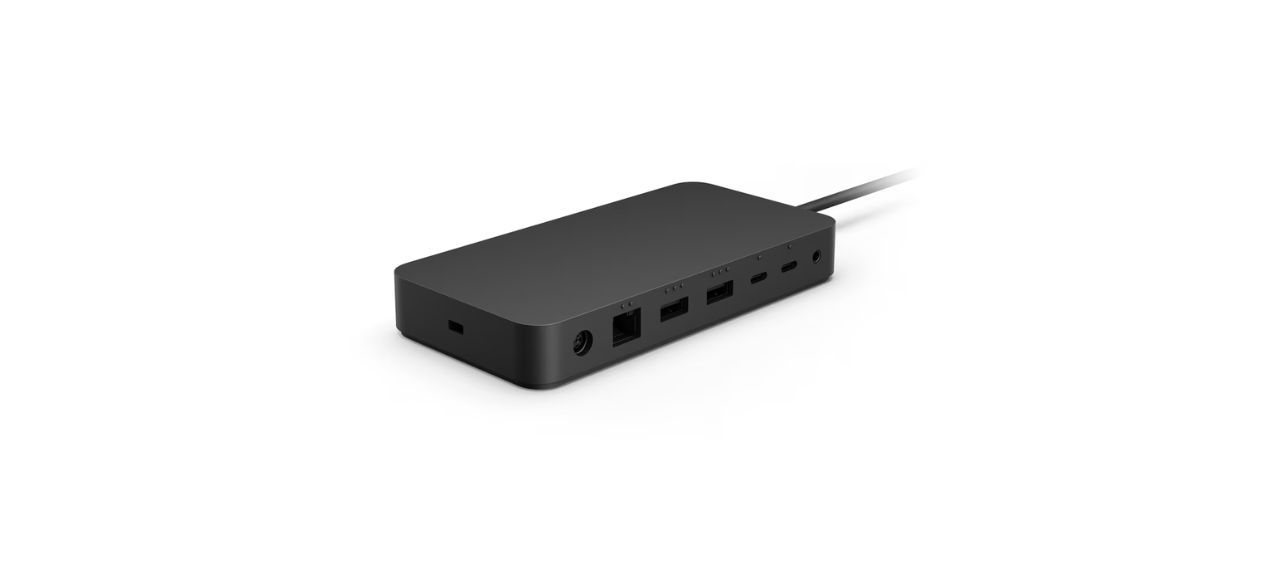 Microsoft Surface Thunderbolt 4 Dock
Using high-speed Thunderbolt 4 ports, this dock transfers data and files at an impressive 40 gigabytes per second, which is four times faster than USB3. It powers your laptop while you're using it, taking it from low battery to fully charged in around 2.5 hours.
Sold by Microsoft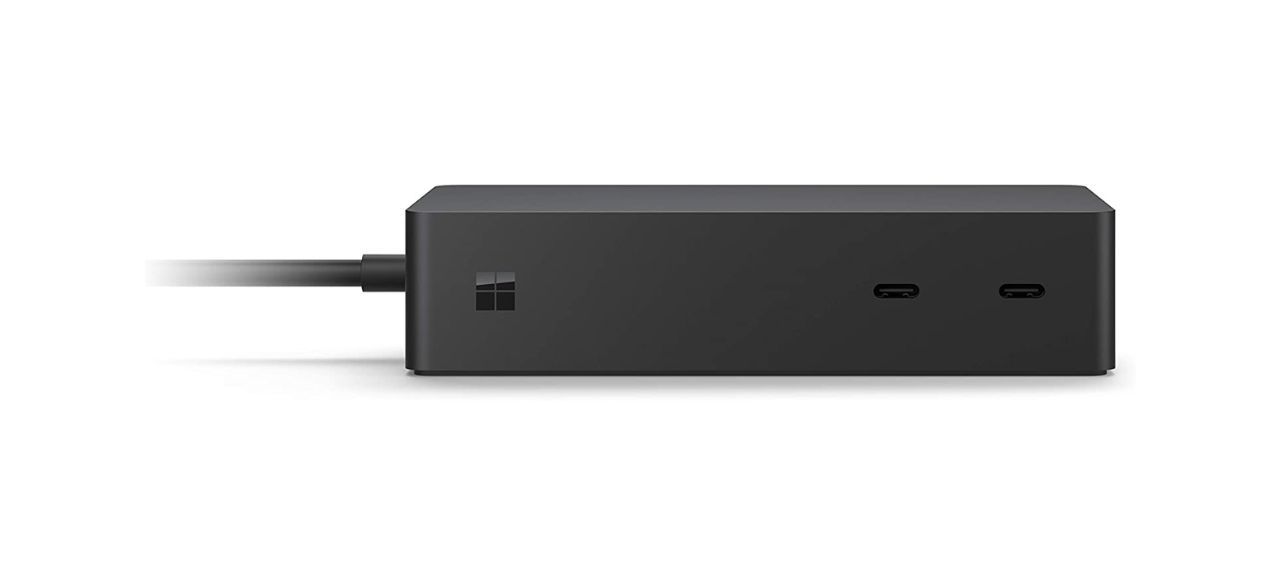 If you don't need something quite as powerful as the Thunderbolt 4 or your laptop doesn't have a USB4 port, this model is a great alternative. It supports dual 4K monitors at up to 60 hertz and lets you attach accessories, such as keyboards and mice.
Sold by Amazon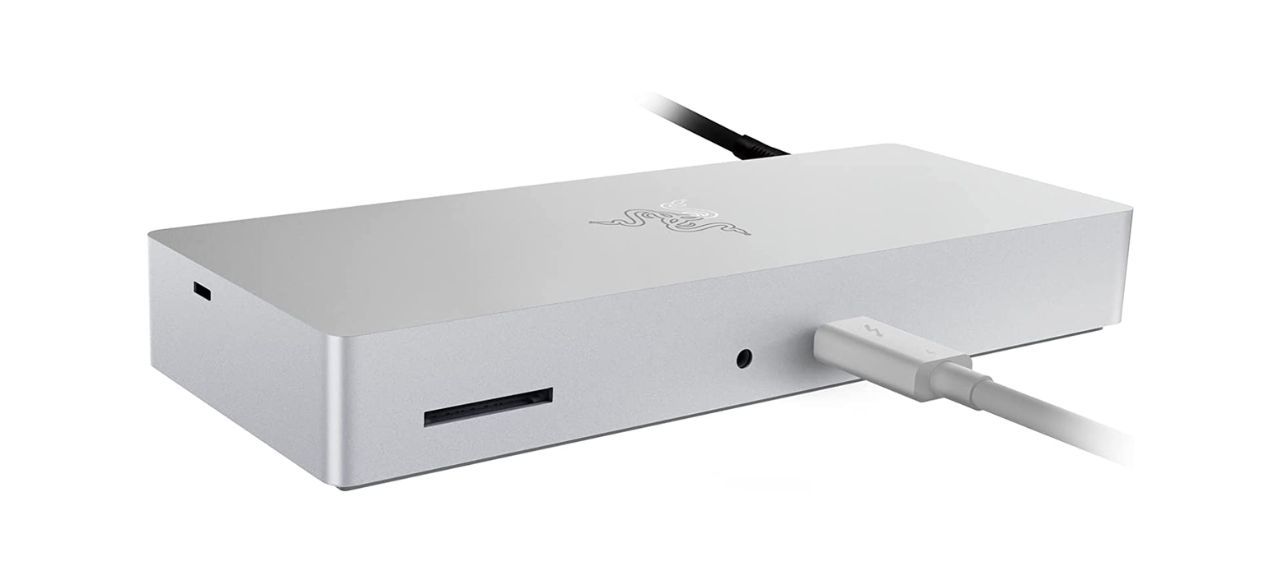 Razer Thunderbolt 4 Dock for Mac
Anyone looking for a speedy Thunderbolt 4 docking station for a Mac should consider the Razer. It can charge your laptop and provide power to connected devices, so there's no need to plug multiple devices and accessories into power outlets.
Sold by Amazon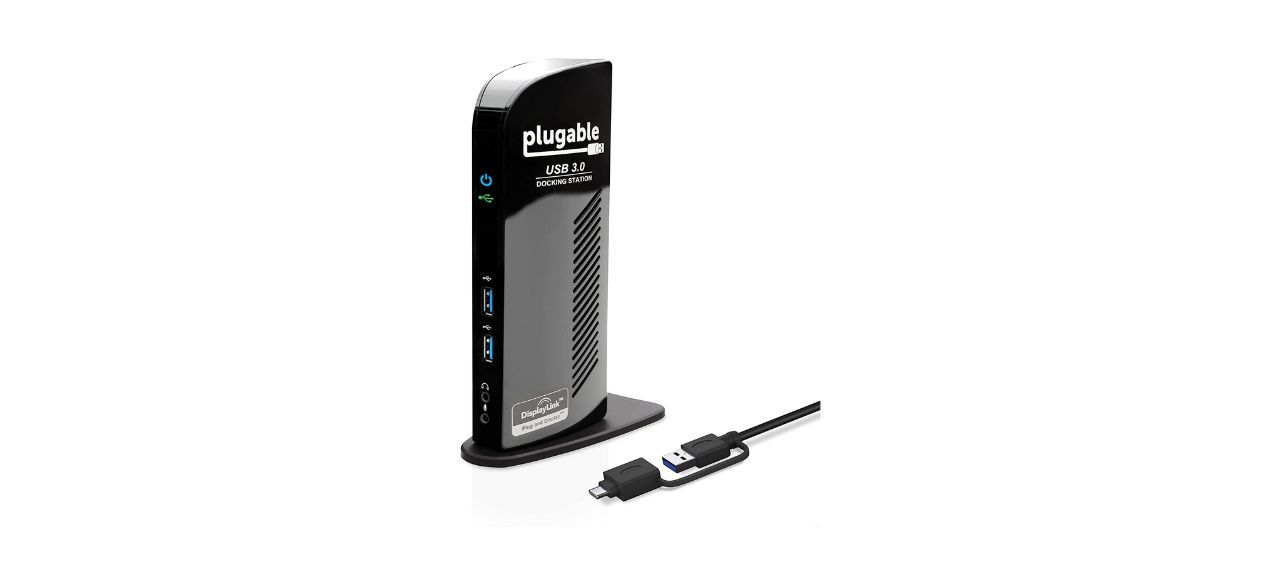 Plugable USB 3.0 Universal Laptop Docking Station
This affordable dock is perfect for Windows or Mac. It has two USB3 ports, four USB2 ports, two 3.5-millimeter jacks (one for headphones and the other for a mic), DVI, VGA, HDMI and ethernet ports. You can connect up to two monitors.
Sold by Amazon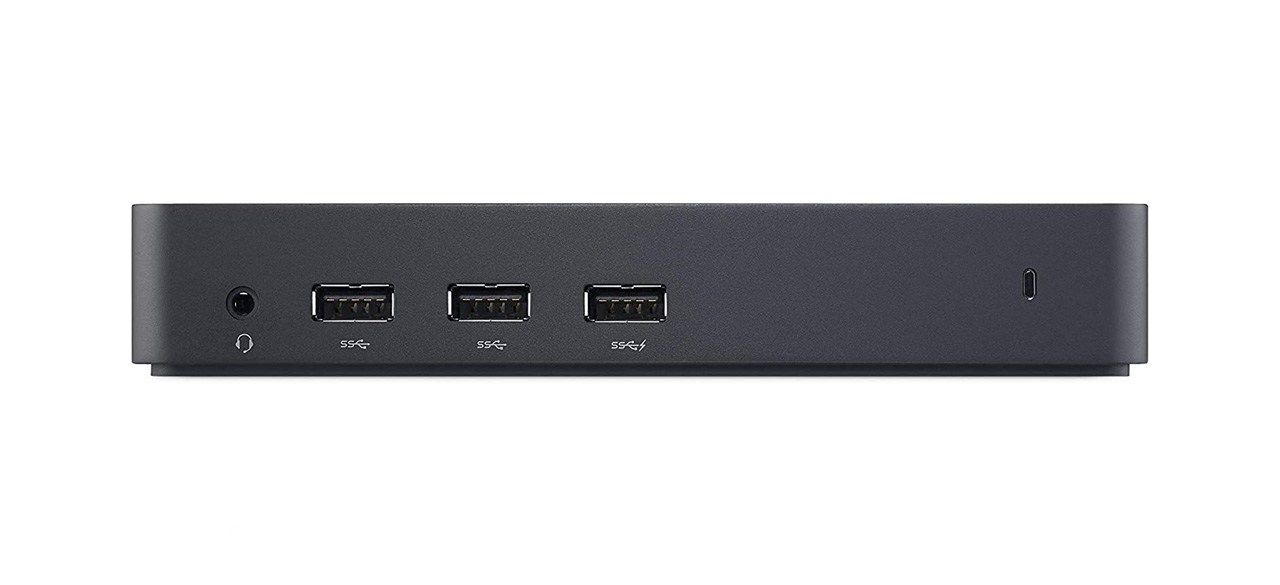 Dell USB3 Ultra HD 4K Triple Display Docking Station
For some buyers, two additional monitors aren't enough, but this docking station lets you connect up to three. It supports ultra HD 4K displays, so it's great for anyone serious about screen resolution. It has three USB3 and two USB2 ports, a headphone jack, USB-in, HDMI ports and more.
Sold by Amazon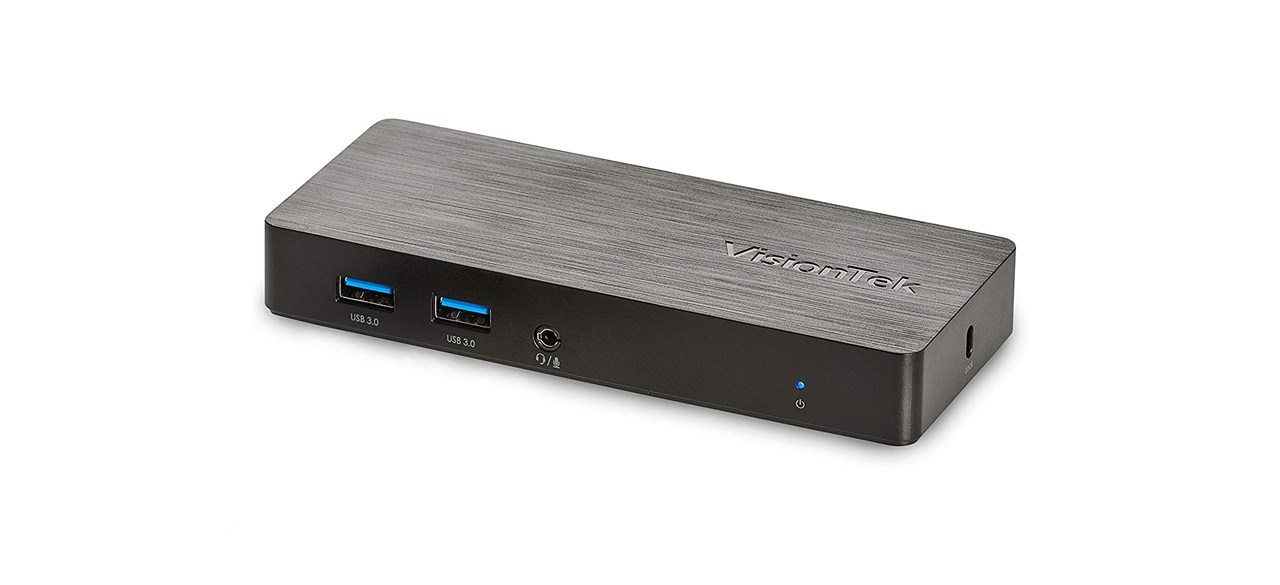 VisionTek VT1000 Universal Dual Full HD Docking Station
Although this dock is affordable, it offers plenty of port options. It comes with three USB3 ports, plus one each of VGA, HDMI, ethernet and display ports. It connects up to two monitors in full HD resolution.
Sold by Amazon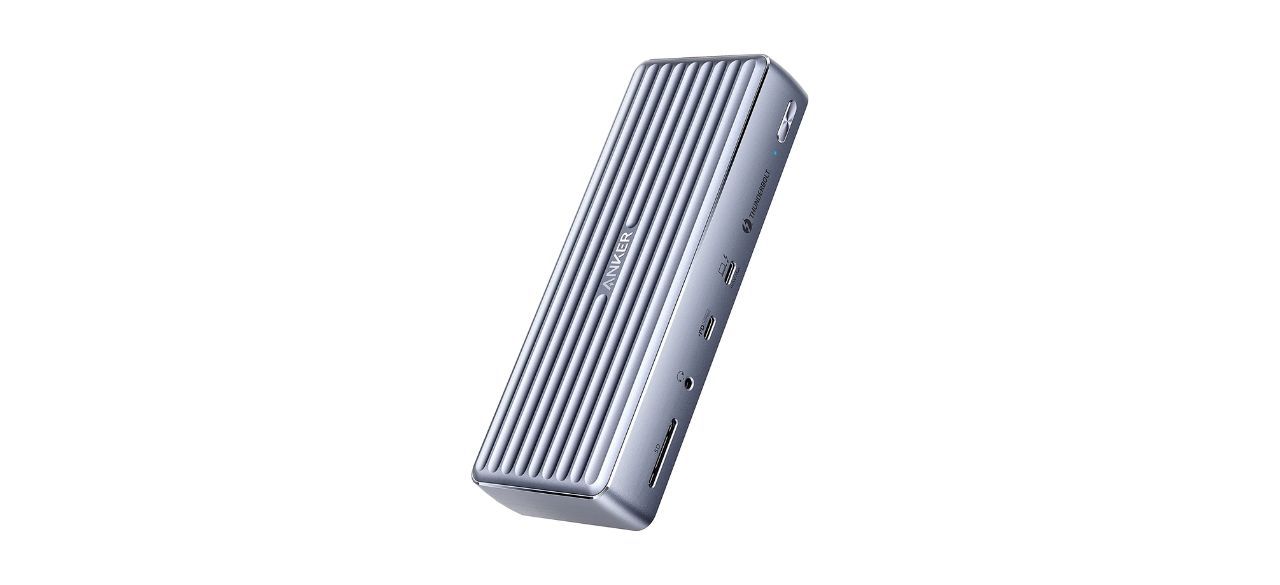 Anker 777 Thunderbolt Docking Station
Compatible with all Thunderbolt 4 Windows laptops and non-M1 MacBooks running macOS 11 and later, this high-end dock is perfect for speedy data transfer. It has 12 ports, including Thunderbolt 4 ports, USB-A ports, HDMI ports and an SD card slot.
Sold by Amazon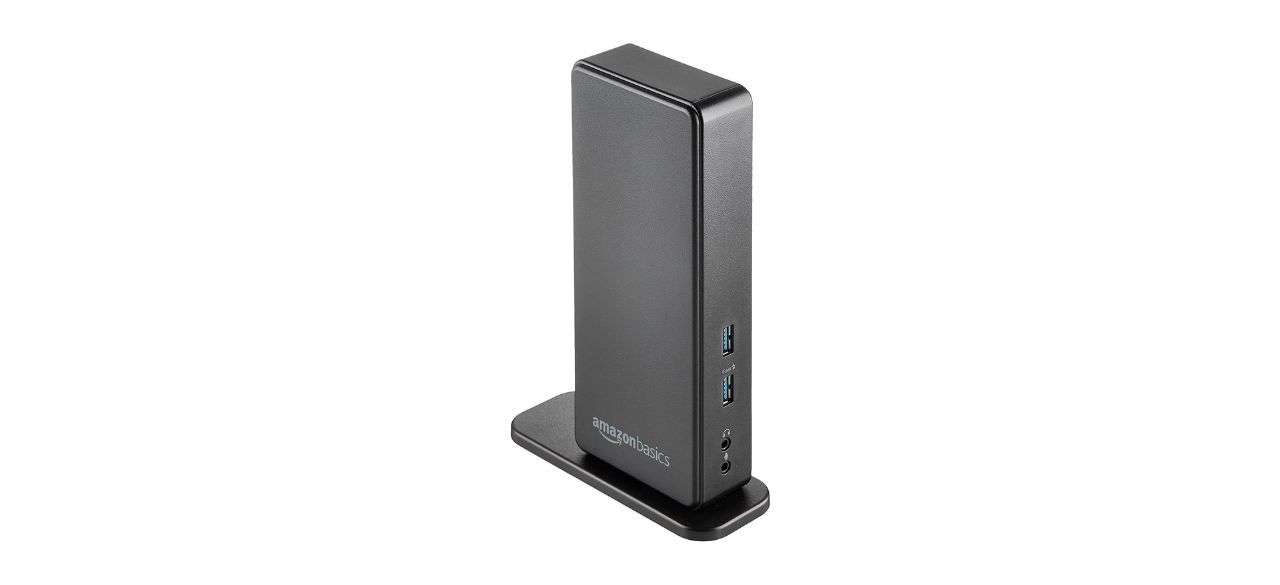 Amazon Basics Universal Laptop Dual Monitor Docking Station
You can use almost any laptop with this dock. However, despite its claim of universality, there are some exceptions, so make sure yours works with it. Its ports include USB3, USB2, DVI and HDMI.
Sold by Amazon
Want to shop the best products at the best prices? Check out Daily Deals from BestReviews.
Sign up here to receive the BestReviews weekly newsletter for useful advice on new products and noteworthy deals.
Lauren Corona writes for BestReviews. BestReviews has helped millions of consumers simplify their purchasing decisions, saving them time and money.
Copyright 2023 BestReviews, a Nexstar company. All rights reserved.