People who snore might find relief with anti-snoring tape
Snoring affects your sleep and can be an annoyance to your partner. It's a common condition causing sleep disturbances. According to the Cleveland Clinic, snoring occurs when the air in your nose cannot flow easily through your nose or mouth. This causes a rattling, snorting or grumbling sound that's noisy and repetitive. Mild or occasional snoring isn't a concern, but chronic snoring may increase the risk of certain heart conditions such as stroke and heart attack. Many people search for ways to stop snoring at night. Recently, mouth tape has become a popular anti-snoring method.
Shop this article: Nexcare Strong Hold Pain-Free Removal Tape, Dr. Johnes Mouth Strips, MedVance Soft Silicone Tape
What are the symptoms of snoring?
Breathing pauses during sleep
Excessive daytime sleepiness
Restless sleep
Sore throat after waking up
Choking or gasping at night
Chest pain at night
Snoring is disturbing your partner's sleep
Morning headaches
How to stop snoring
Adjust your sleeping position. Try propping your head up with pillows, or sleep on your side instead of your back.
Clear your nose. Relieve stuffiness by blowing your nose or using an antihistamine or nasal spray.
Strive for a healthy weight. Obesity is one of the risk factors for snoring, so losing weight may open your airways.
Quit smoking. Smoking can close your nasal passages, obstructing your breathing at night.
Use nasal strips. Placing adhesive nasal strips on the bridge of your nose can increase airflow.
Limit alcohol intake. Avoid drinking alcohol close to bedtime, as the substance relaxes airway muscles as you sleep.
What to look for when purchasing mouth tape
Medical-grade materials: Ensure the tape is made from high-quality, medical-grade materials.
Easily removable: In case you need to readjust or remove it, look for mouth tape that can be easily repositioned.
Hypoallergenic: If you have sensitive skin, purchase tape that won't irritate your skin.
Venting: Mouth tape with vents lets your skin breathe at night.
How to use mouth tape
Wash your face thoroughly, especially around your mouth and nose.
Cut a piece of medical-grade tape or peel the mouth strip from the protective pad.
Close your mouth with your lips in complete contact.
Place the tape or strip centered across your mouth and press both ends.
Gently rub the tape or strip to secure it to your mouth.
After waking up, slowly take off the tape to prevent injury.
Don't use lip balm or other skin care products around your lips. Men with beards should check that their hair won't affect the adhesiveness of mouth tape.
Best mouth tape for snoring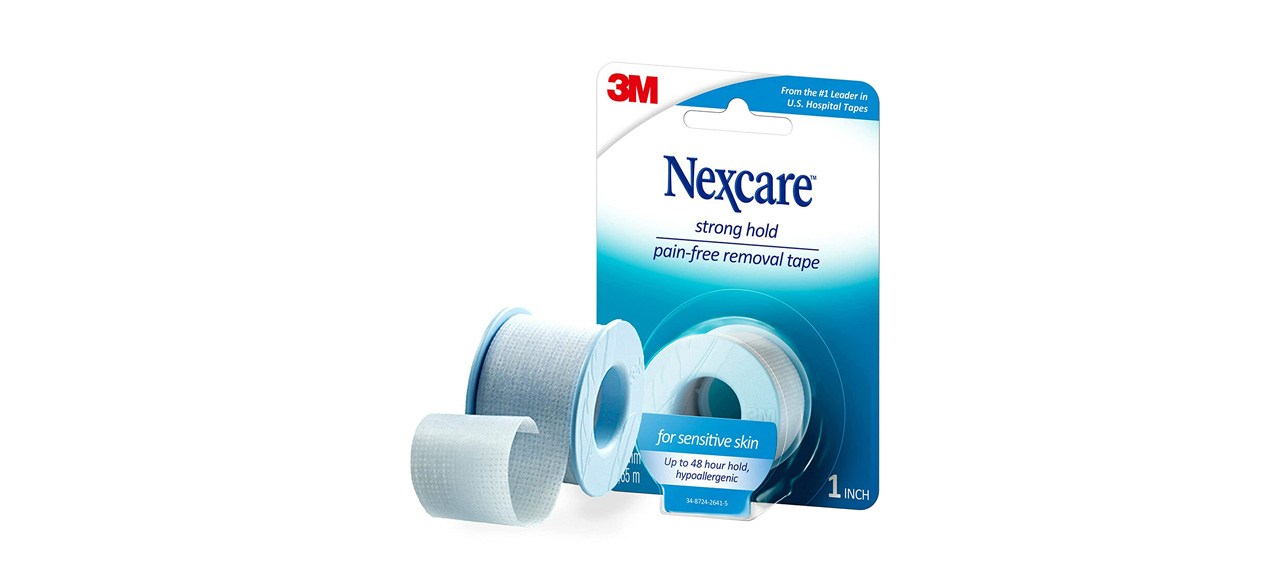 Nexcare Strong Hold Pain-Free Removal Tape
This tape has pain-free removal and holds for up to 48 hours. It's a proprietary, advanced silicone adhesive that can be repositioned to your preferred placement. It's designed for people with sensitive skin.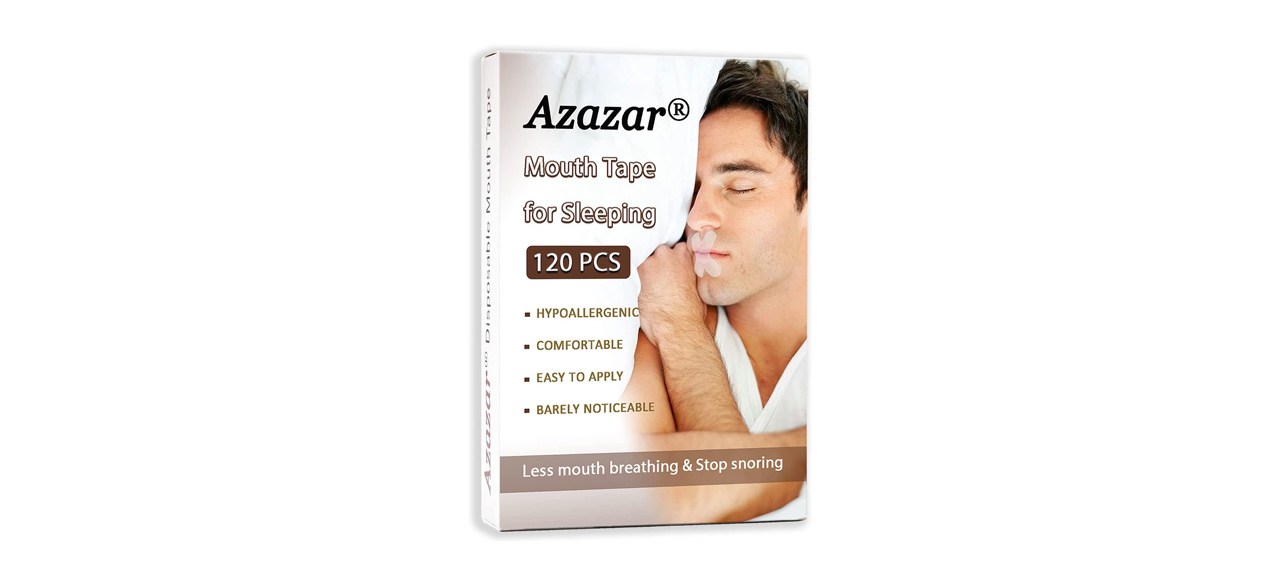 This 120-count of mouth tape encourages nose breathing while sleeping. They can be repositioned and the adhesive won't leave a residue. They're made of hypoallergenic, medical-grade tape to protect sensitive skin. All contents of this pack of mouth tape are recyclable.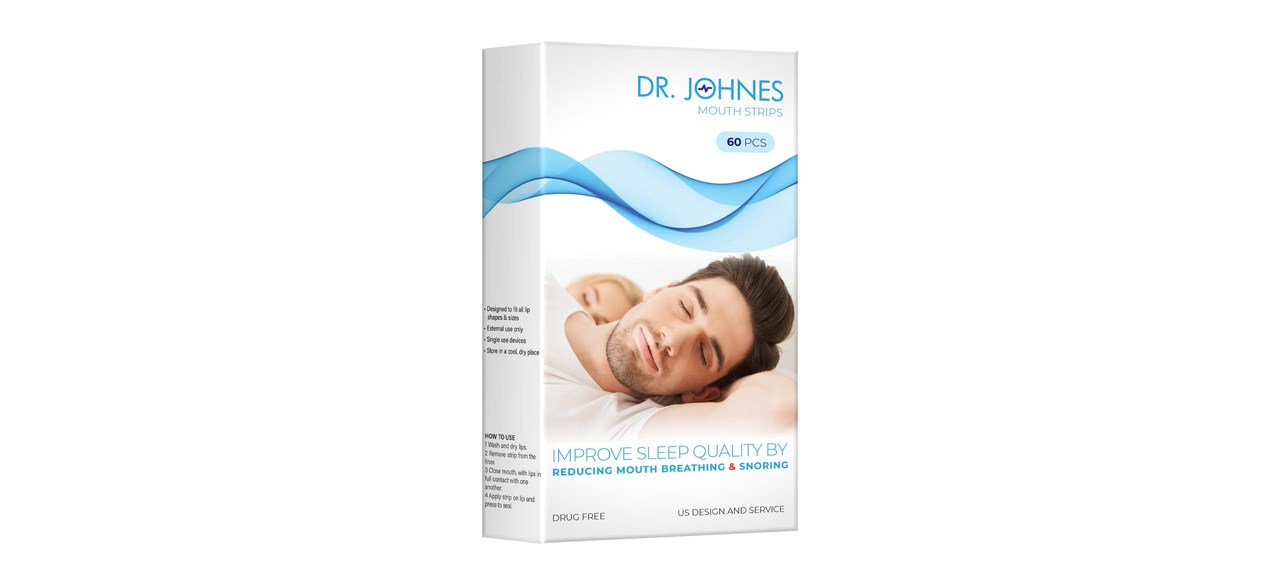 The strips are made with specially engineered adhesive that's easy to remove and reapply. They're made of hypoallergenic materials to prevent irritation for people with sensitive skin. They have vents, letting your skin breathe at night.
Sold by Amazon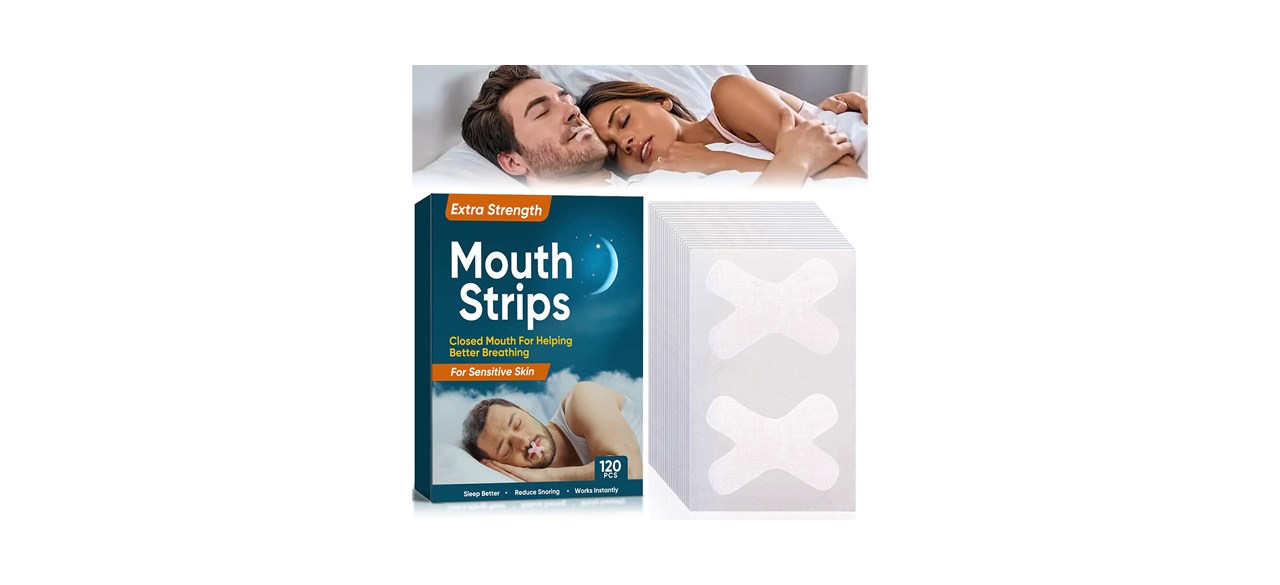 The 120-count of mouth strips are ergonomic so they won't fall off. There isn't any direct contact between the strips and your lips, so they stay bonded to your mouth. They're made of high-quality, medical-grade material.
Sold by Amazon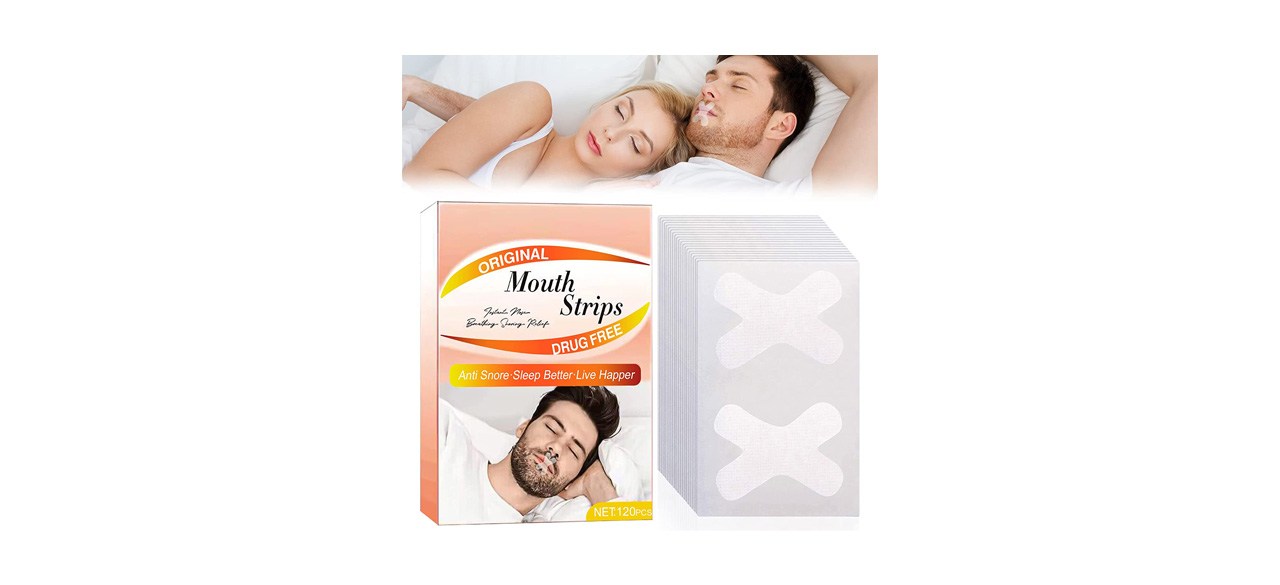 QQCherry Original Mouth Strips
These mouth strips not only encourage nose breathing but relieve dry throat. They have decent adhesiveness, so they won't fall off while sleeping. Each strip is made of soft, breathable and high-quality material. They're hypoallergenic and free of irritating ingredients.
Sold by Amazon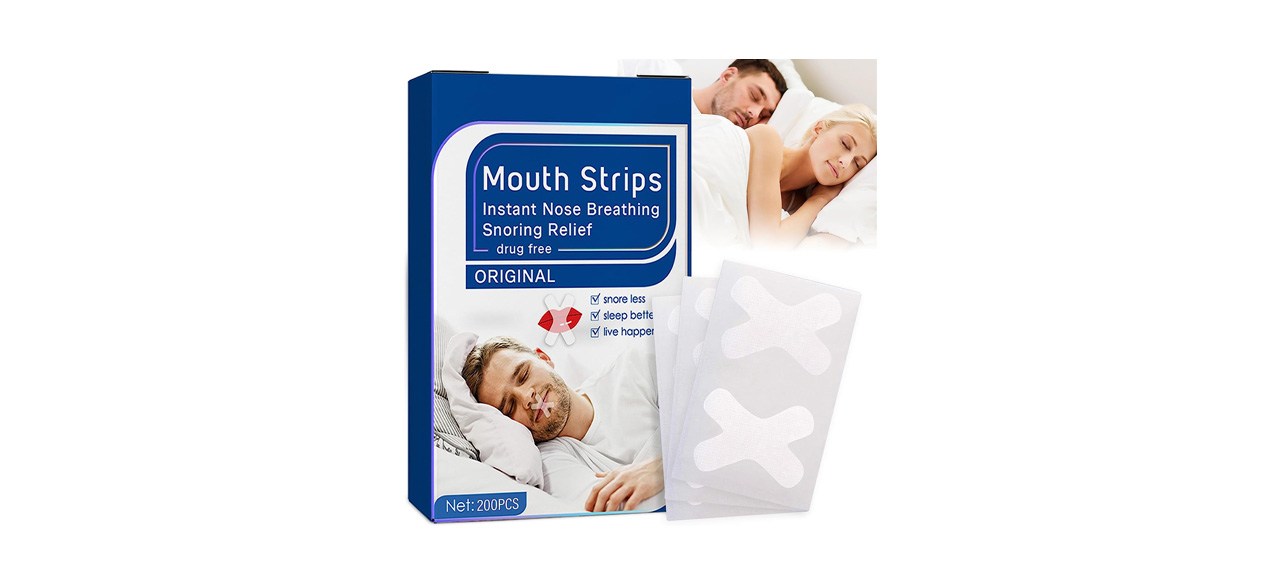 Amochy Mouth Strips for Sensitive Skin
These mouth strips are X-shaped to keep your mouth closed without pulling your skin. They are hypoallergenic and made of soft, breathable material. They don't have direct contact with your lips, meaning they stay in place while you're asleep.
Sold by Amazon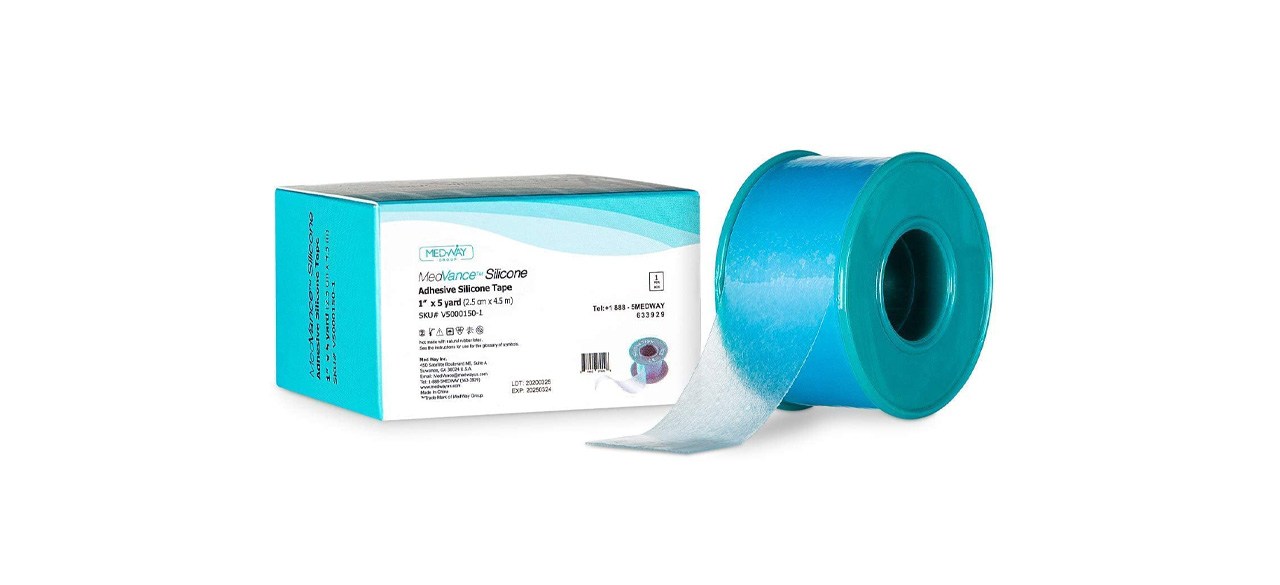 This medical-grade silicone tape can be used for snoring, dressing wounds and medical devices. It's made of soft, breathable and waterproof materials. You can cut off a piece of tape and place it on your mouth to stop snoring.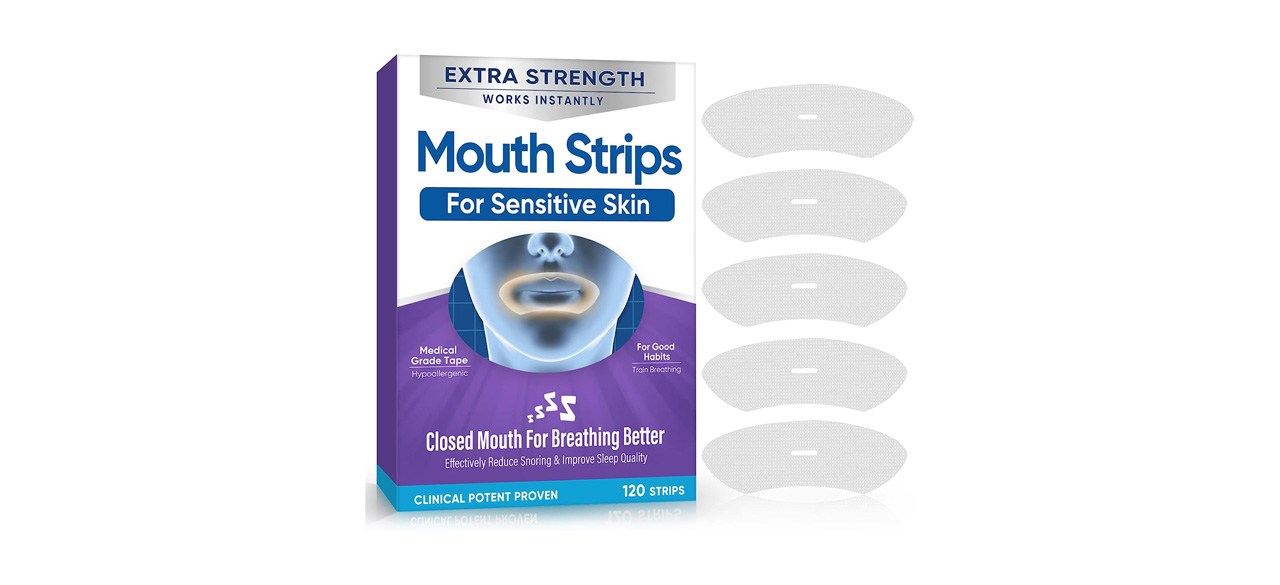 Scobuty Mouth Strips for Sensitive Skin
These 120-count of medical-grade mouth strips are soft, breathable and hypoallergenic. They don't contain irritating ingredients that can harm your skin. They have an X-shaped design that keeps your mouth closed and won't overstretch your skin. They don't touch the lips to encourage the strips stay in place, and they're comfortable.
Sold by Amazon
Want to shop the best products at the best prices? Check out Daily Deals from BestReviews.
Sign up here to receive the BestReviews weekly newsletter for useful advice on new products and noteworthy deals.
Taneia Surles writes for BestReviews. BestReviews has helped millions of consumers simplify their purchasing decisions, saving them time and money.
Copyright 2023 BestReviews, a Nexstar company. All rights reserved.