Does your pet need help getting into the car or on the bed?
Sometimes our smaller dogs need some extra help. That could mean a specially formulated pet food for small dogs, but it can also mean accessories that make it easier for them to get around — especially if they are not big on jumping. Short-legged breeds like corgis, Pomeranians, Yorkshire terriers and toy breeds can benefit from different kinds of risers, whether that be the best pet ramps or the best dog stairs. These handy-dandy items can assist pets into a vehicle or onto a bed or couch, which can also be useful for senior dogs or any dog that needs a boost.
Shop this article: Pet Gear Portable Full-Length Ramp, Topmart Three-Tier Foam Dog Ramp Steps, Pet Gear Step and Ramp Combination
What's better: pet ramp or pet stairs?
How do you know if your dog needs a pet ramp or pet stairs? And what are the main differences? While both can come in handy, there are pros and cons to both, depending on the situation.
In general, stairs are most often used indoors, while ramps are often portable and lightweight enough to take on the go. Some pet owners prefer ramps — even indoors — because stairs can be tougher on the body, especially for dogs with mobility issues. Ramps tend to have a more gradual incline, which is why some people think ramps are easier on the joints. It's controversial, as one could also make the argument that ramps put more pressure on a dog's joints, but either way, both are safer alternatives to jumping.
If you're specifically looking for an accessory for getting in and out of a vehicle, a pet ramp is the more popular solution.
Best dog ramps and stairs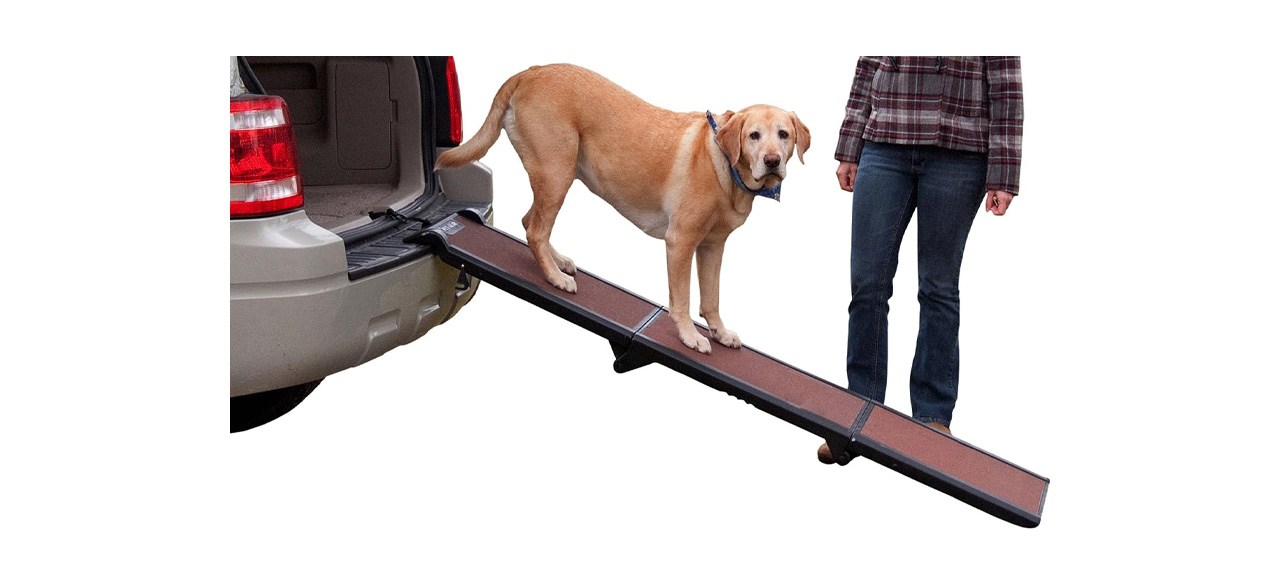 Pet Gear Portable Full-Length Ramp
At its max capacity, this full-length ramp can hold up to 200 pounds, which makes it a useful option for medium- to large-sized dogs. It has more than 4,000 ratings on Amazon and features rubber grippers on the bottom. It's also pressure-activated, meaning that it grips better with weight on it.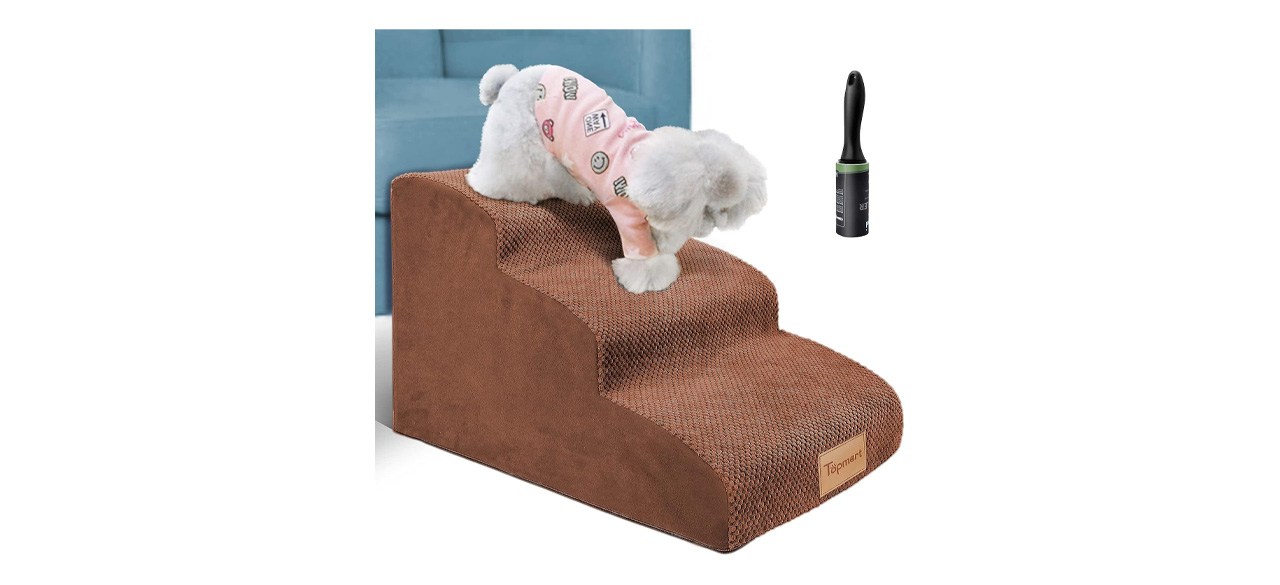 Topmart Three-Tier Foam Dog Ramp Steps
Available in different colors, including brown, blue, gray, yellow and white, this three-tier option has extra-wide stairs — 15 inches — that better accommodate big paws. In height, it reaches 15 inches tall, which makes it a better option for indoor use with beds and sofas.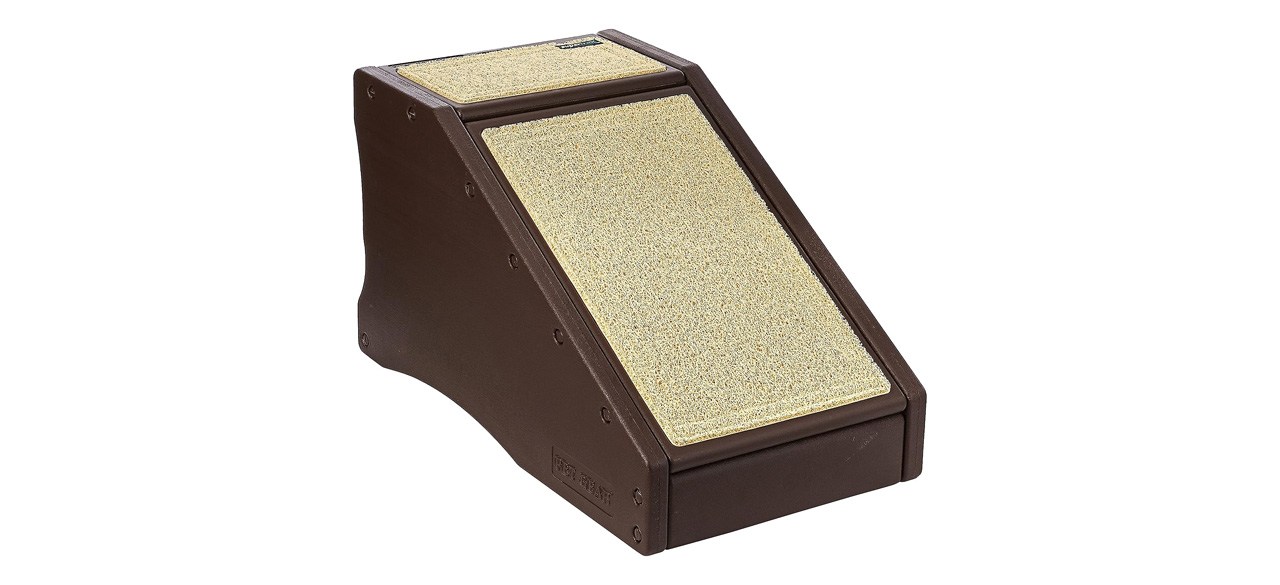 Pet Gear Step and Ramp Combination
At the top of this combination ramp, your pet will find a flat surface that is similar to a stair. This design helps even out the incline, so it's not too steep. It has nearly 5,000 ratings and is even an Amazon's Choice pick. It's 16 inches tall, but may require a small hop onto the ramp itself as the initial incline starts 5 inches off the ground.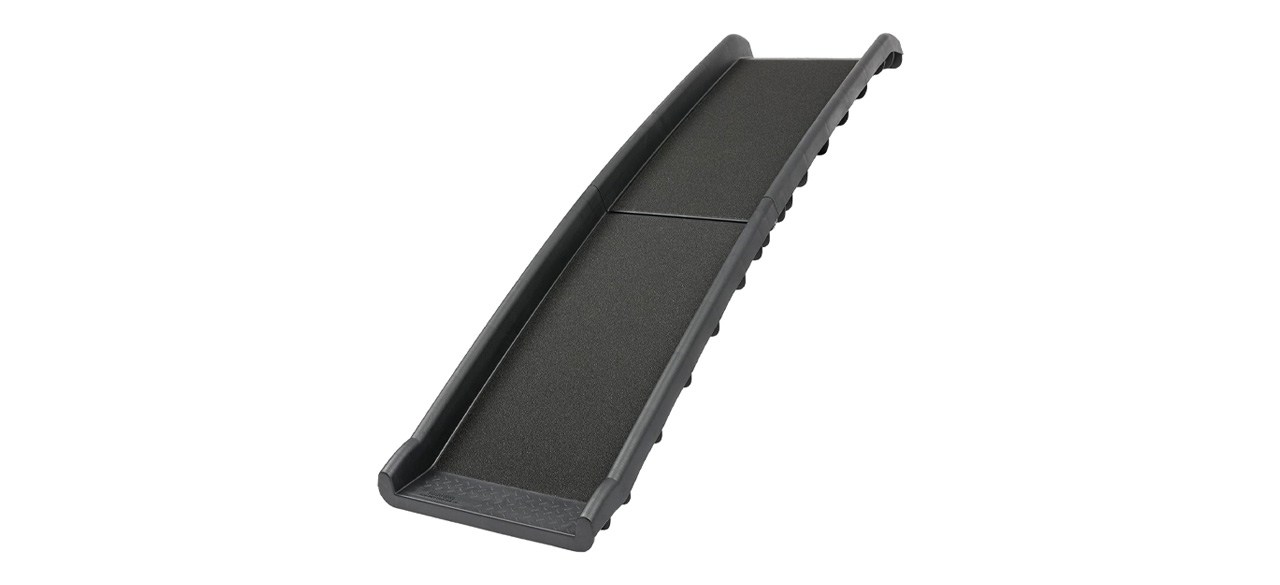 Pet Safe Happy Ride Folding Pet Ramp
This ramp has nearly 14,000 Amazon ratings and has recently been gaining traction amongst shoppers with more than 1,000 purchased in the last month. It has side rails for an added layer of anti-fall protection and it inclines to 62 inches high. It folds and locks, too, making it portable and convenient enough to store in the car.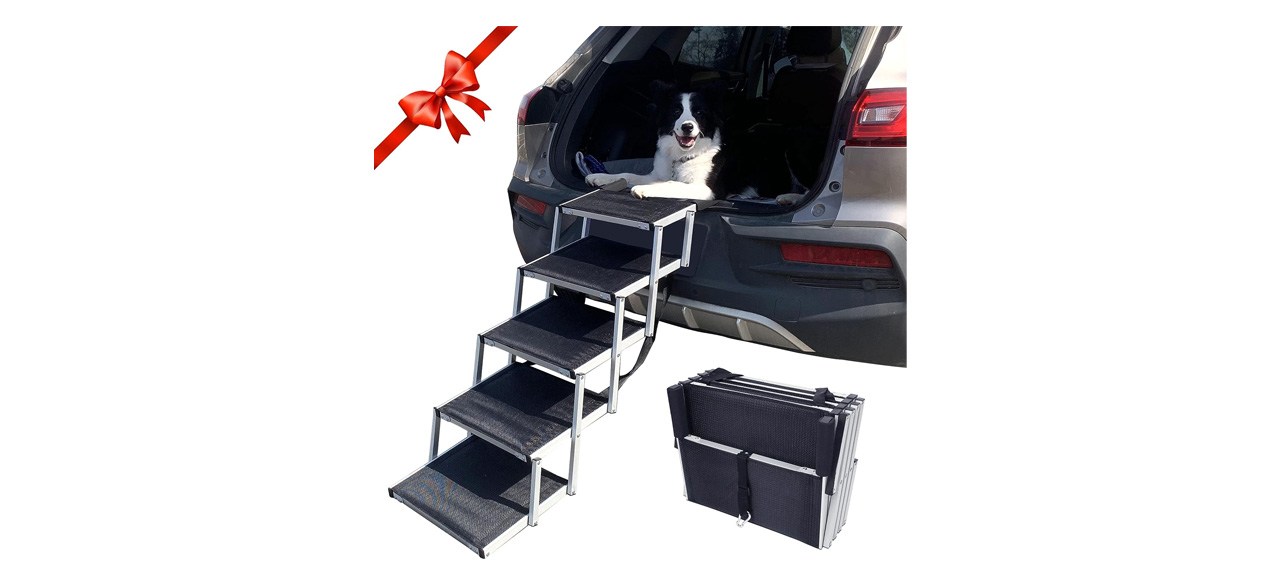 These car steps unfold at a high angle (25 inches high) or a low angle (23.2 inches high) for increased versatility. This model has five steps total, but it also comes in other options like wider four steps, square five steps and six narrow-style steps.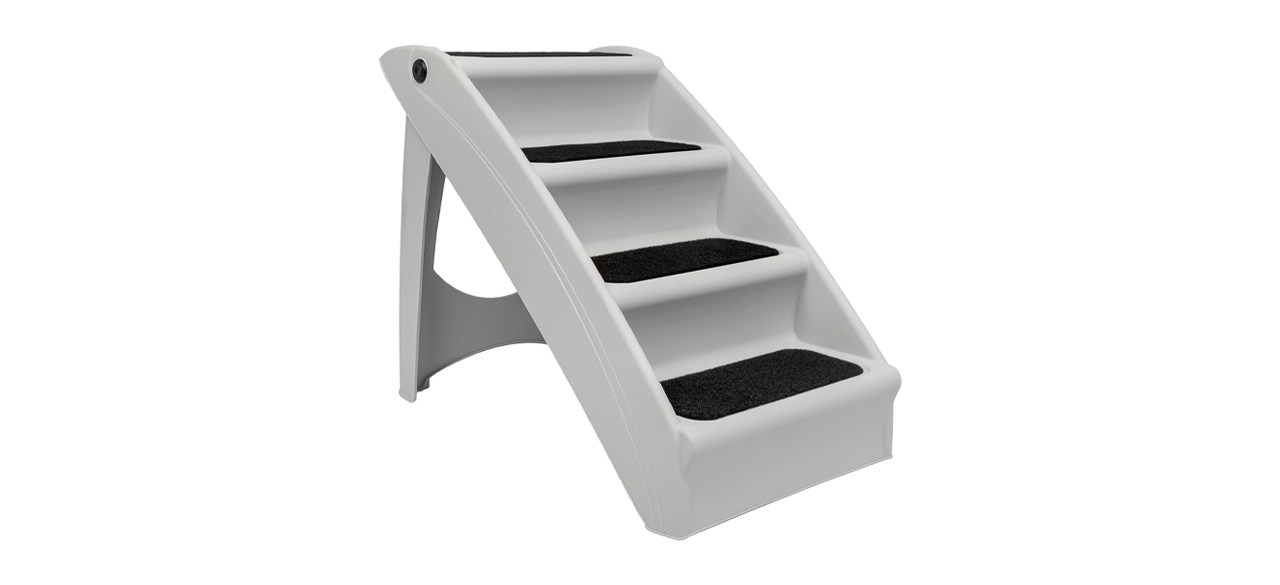 PetSafe CozyUp Folding Pet Steps
With more than 65,800 Amazon ratings, these folding pet steps can support up to 200 pounds. It's available in two height options — 20 inches tall for sofas and 25 inches tall for beds. It also comes in gray or tan and has carpeted treads, rubber feet for added sturdiness and raised side rails.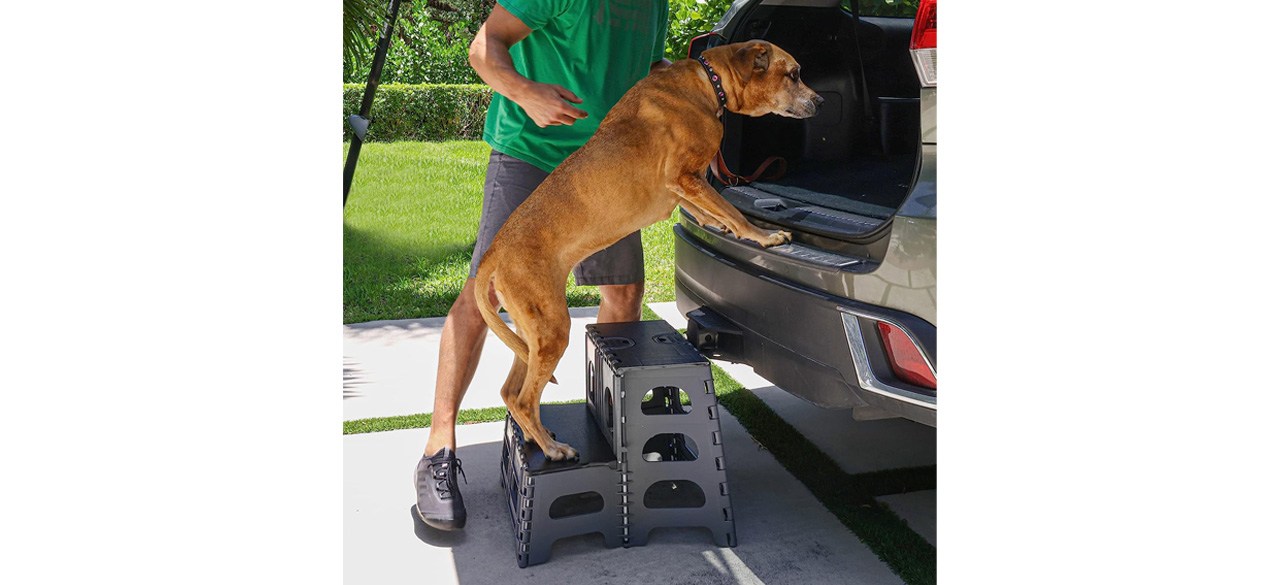 Bee Neat 2-Step Folding Step Stool for Pets
Part stairs, part stool, this foldable option is ideal for larger pets with longer strides. It's 21.5 by 1.5 by 25.5 inches and features two steps total. It's one of the more compact options as, when folded, it's only 1.5 inches thick.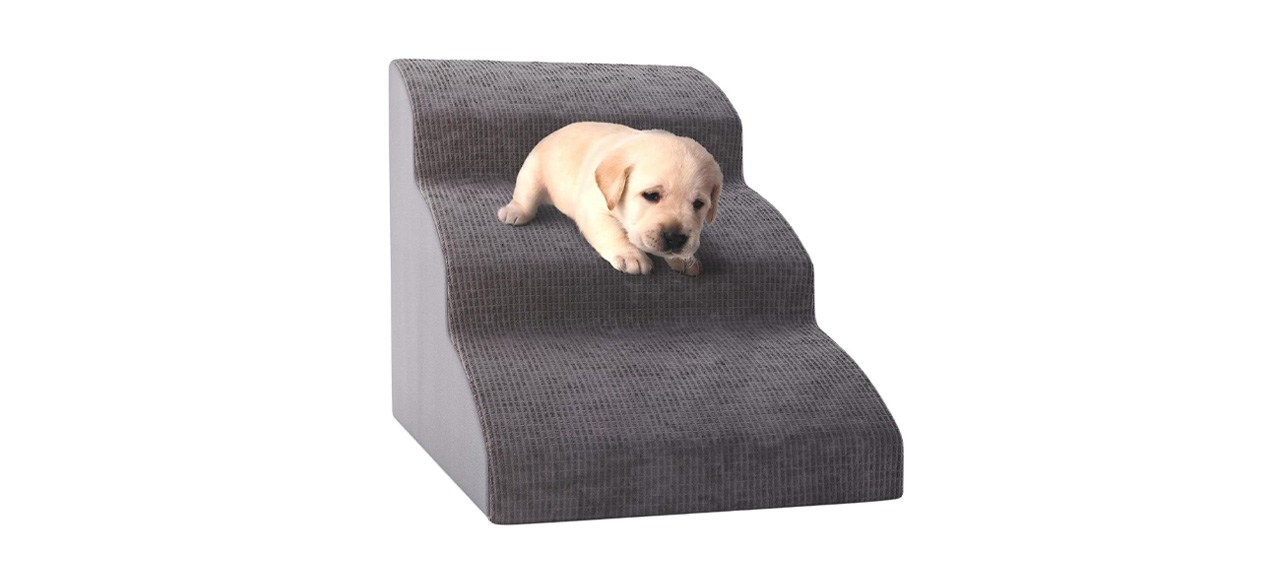 Zicoto Sturdy Dog Stairs and Ramp
Ideal for puppies, smaller dogs and cats, this three-step staircase is best for pets up to 60 pounds. It has a machine-washable cover for easy cleaning and the steps feature a gentle slope that is not too abrupt. Underneath a corduroy cover, there is a high-density memory foam filling that's soft and comfortable under pets' paws.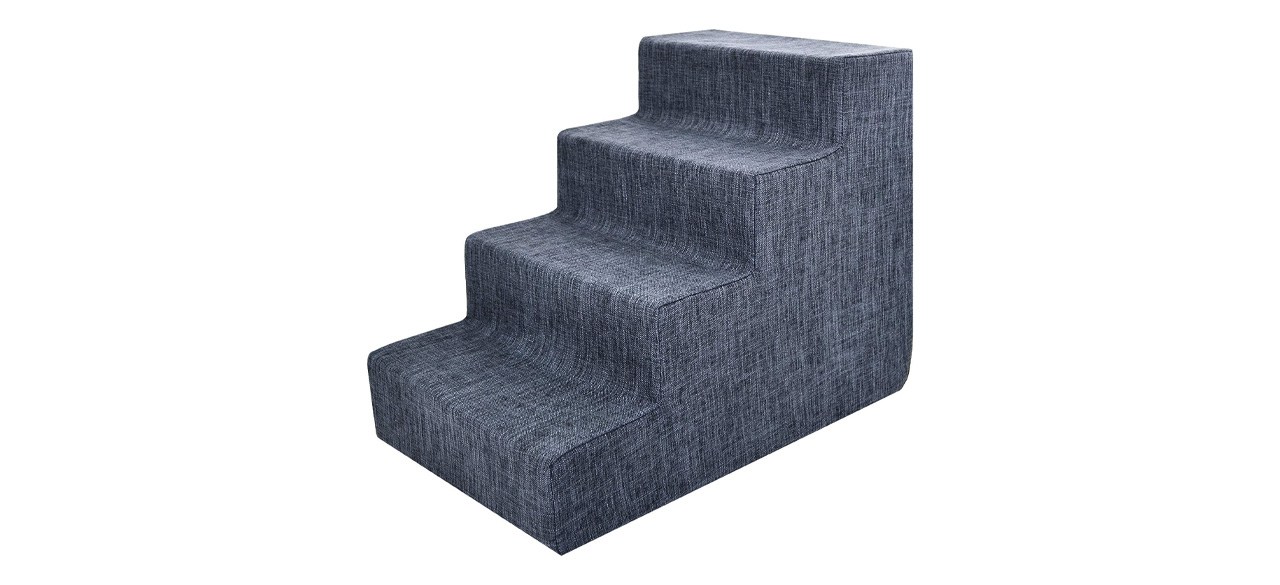 Best Pet Supplies Foam Pet Steps
An overall 4.5-star rating and more than 21,000 ratings make this popular steps option a standout. It comes in 16 colors and patterns, including latice, linen and paw-covered prints. It is 18 inches tall and the zipper closure can be upzipped to machine-wash the removable cover.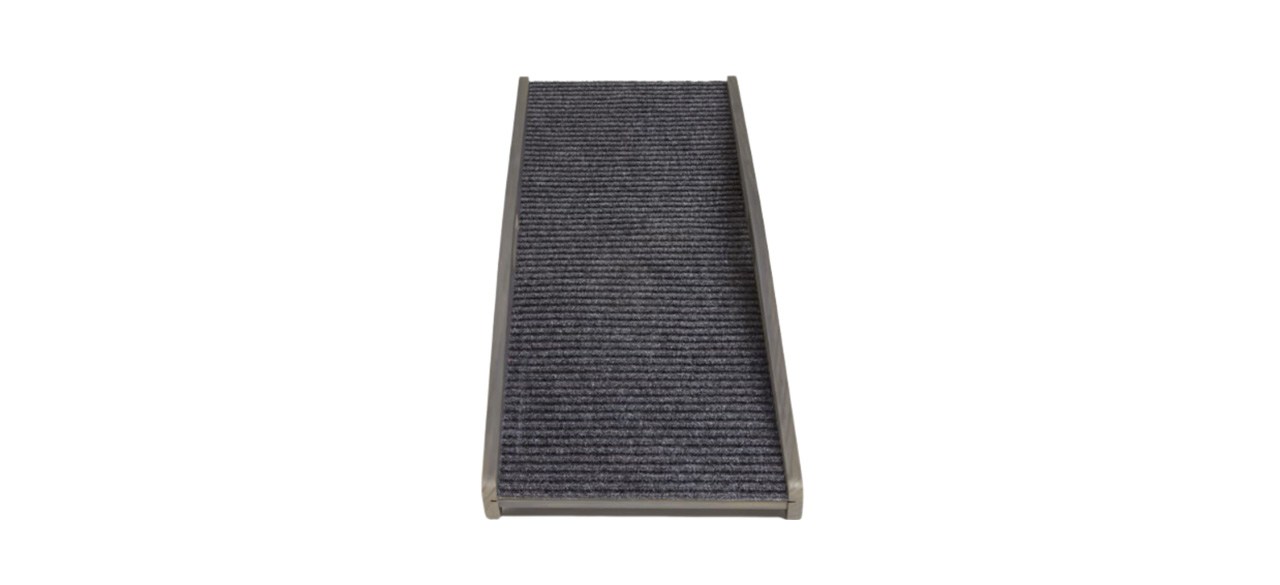 EveryYay Rise and Climb Indoor Pet Ramp
This indoor pet ramp has legs that adjust to heights 12, 16, 20 and 24 inches. It has a textured carpet tread that gives pets the grippage they need to prevent slips and falls, and it also collapses and locks into place. For convenient portability, it also has a handle once folded up, which makes it easier to carry the ramp on the go.
Worth checking out
Want to shop the best products at the best prices? Check out Daily Deals from BestReviews.
Sign up here to receive the BestReviews weekly newsletter for useful advice on new products and noteworthy deals.
Stephanie Osmanski writes for BestReviews. BestReviews has helped millions of consumers simplify their purchasing decisions, saving them time and money.
Copyright 2023 BestReviews, a Nexstar company. All rights reserved.