Forty names, games, teams and minutiae making news in college football, where Michigan State appears to have suddenly won the First to Fire: 
First Quarter: Deion's Great Expectations | Second Quarter: Coaches As Instigators | Third Quarter: The Unranked Unbeatens
Fourth Quarter: The First Blockbuster Saturday of the Season
The first three weeks had their charms—some upsets, some drama, plenty of Coach Prime. But now it's time for the first huge week of 2023, with seven big games all over the map. Make it clear to anyone who may inquire: You are not available for hay rides, home repairs, long dinners in TV-less restaurants nor family game nights. You need to hunker down all day for this feast. A Dash breakdown of the seven marquee games, with picks.
Ohio State at Notre Dame (31)
When: 7:30 p.m. ET
Line: Ohio State by 3.5
Records and AP rankings: The Buckeyes (3–0) are ranked No. 6. The Fighting Irish (4–0) are ranked No. 9.
At stake: Winner takes a stride toward College Football Playoff contention and, in a season without a dominant team to date, can even make a claim to be No. 1. Loser isn't out of it but feels increased pressure to win big games later.
Series: Ohio State leads 5–2 and has won the past five. Notre Dame's last win was in 1936.
Which fan base freaks out harder in a loss: Ohio State. This is always the answer, unless Alabama is involved.
Dash pick: Notre Dame 27, Ohio State 26. The Fighting Irish defense has been disruptive in the passing game, producing five interceptions, six sacks, 15 passes broken up and 23 quarterback hurries. That presents an interesting challenge for Buckeyes QB Kyle McCord, who has looked progressively better in each start. Is this a game where Marvin Harrison Jr. performs like the best nonquarterback in college football? Offensively, Notre Dame has been able to maintain balance with Audric Estime leading the ground game, while Sam Hartman has elevated the Irish passing attack. This could be the validation game for second-year Irish coach Marcus Freeman.
Colorado at Oregon (32)
When: 3:30 p.m. ET
Line: Oregon by 20.5
Records and AP rankings: The Buffaloes (3–0) are No. 19. The Ducks (3–0) are No. 10.
At stake: There are Heisman Trophy ramifications here for Shedeur Sanders of Colorado and Bo Nix of Oregon. Colorado's surging program momentum is on the line. And Ducks coach Dan Lanning has some dismissive comments about the Buffaloes to back up from July when Colorado announced its departure for the Big 12: ""I'm trying to remember what they won to affect this conference. I don't remember. … Do you remember them winning anything?"
Series: Ducks lead 15–9 and have won nine of the past 10.
Which fan base freaks out harder in a loss: Oregon. Colorado fans are still in the giddy honeymoon phase after years of irrelevance.
Dash pick: Oregon 52, Colorado 28. Everything points toward a Ducks blowout. The Buffaloes are coming off a double-overtime rivalry game that ended after midnight and now will go on the road into the toughest environment in the Pac-12. The injury to two-way standout Travis Hunter is a major blow. Oregon can run the ball, Colorado cannot. Unless Shedeur Sanders is superhuman, this could get away from the Buffs quickly.
Florida State at Clemson (33)
When: 12 p.m. ET
Line: Florida State by 2.5
Records and AP rankings: The Seminoles (3–0) are No. 4. The Tigers (2–1) are unranked.
At stake: ACC supremacy for the two programs that have dominated the league for 12 years. Florida State's naked hunger to be a power player again. Clemson's desire to prove it can still compete for national championships.
Series: Florida State leads 20–15, but Clemson has won the past seven.
Which fan base freaks out harder in a loss: Both could melt down here, but Clemson fans would just give up because their playoff hopes would be all but extinguished again.
Dash pick: Florida State 27, Clemson 24. The Seminoles have the edge at quarterback, receiver and the kicking game. Their offensive line has done a nice job protecting Jordan Travis, and his mobility makes him doubly hard to sack. If FSU gets rolling it could be difficult for Clemson to match scores. The Tigers did make it through the last game (against Florida Atlantic) without a Cade Klubnik turnover, so that could be a sign the sophomore is rinsing the brain lock plays out of his game. But it appears to be time for Florida State to reassert itself in the ACC for the first time since 2014.
Iowa at Penn State (34)
When: 7:30 p.m. ET
Line: Penn State by 14.5
Records and AP rankings: The Hawkeyes (3–0) are No. 24. The Nittany Lions (3–0) are No. 7.
At stake: Penn State needs to get past the Hawkeyes to have a clean shot at playoff viability with two huge games down the road. For the Hawkeyes, this is a chance to raise the presumed ceiling on this team and further distance itself from the rest of the Big Ten West. Indianapolis would be coming into focus with a win here.
Series: Penn State leads 17–14, but Iowa has won the past two.
Which side freaks out harder in a loss: Penn State fans have invested in the belief that this is their year to crack the Michigan–Ohio State ceiling in the conference. They will definitely lose it if they don't win this one in a White Out night game.
Dash pick: Penn State 19, Iowa 10. This has all the makings of a root-canal game for the Nittany Lions—not much fun, just endure it and hope it ends well. They've not been great hitting big runs and finishing drives in their two games against commensurate competition, and the Hawkeyes specialize in both limiting big plays and keeping opponents out of the end zone. But it's also hard to see Iowa scoring points with the No. 116 pass efficiency offense in the country going up against the No. 11 pass efficiency defense.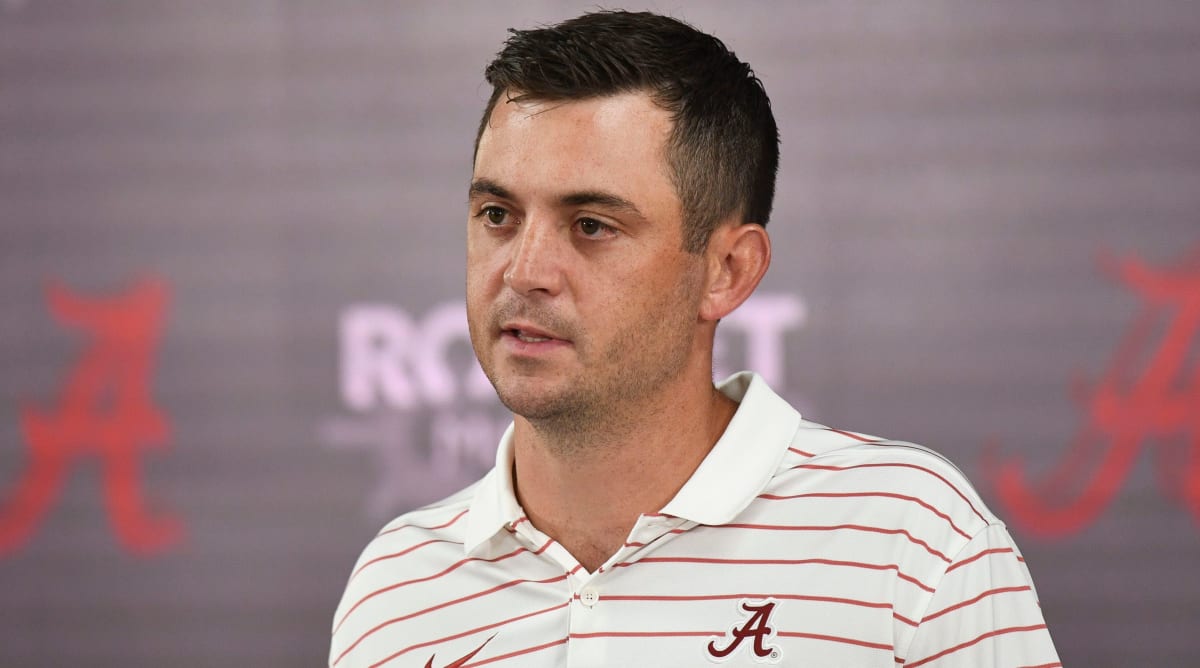 Mississippi at Alabama (35)
When: 3:30 p.m. ET
Line: Alabama by 6.5
Records and AP rankings: The Rebels (3–0) are No. 15. The Crimson Tide (2–1) are No. 13 and outside the top 10 for the first time since 2015.
At stake: Ole Miss's aspirational goals of finally winning the SEC West and playing in the SEC championship game. Alabama is merely trying to protect the heart, soul and psyche of its entire fan base.
Series: Alabama leads 58-10-2 and has won 17 of the past 19, with the Great Hugh Freeze Insurrection of 2014–15 being the only thing breaking up the recent hegemony.
Which side freaks out harder in a loss: See above answer regarding Ohio State.
Dash pick: Mississippi 28, Alabama 24. Rarely has crisis and consternation swirled around Nick Saban's Alabama program the way it is this week. Saban has reverted to Jalen Milroe as his starting quarterback after bizarrely benching him—and nearly having it bite the team in the behind—against South Florida. The offensive line is not good. The pressure is rising on offensive coordinator Tommy Rees. And now here comes Lane Kiffin, of all wiseacre coaches, with a team that gives him a chance to beat his old boss in Bryant-Denny. Kiffin has begun the PsyOps campaign already, declaring that he suspects Saban has changed de facto defensive coordinators. Keep in mind that Alabama hasn't lost two home games in the same season since 2007 and hasn't lost two home games in September since '03.
UCLA at Utah (36)
When: 3:30 p.m. ET
Line: Utah by 4.5
Records and AP rankings: The Bruins (3–0) are No. 22. The Utes (3–0) are No. 11.
At stake: The Utes are shooting for a Pac-12 three-peat. The Bruins are trying to win their first league title since 1998, believe it or not. Given the quality of the Pac-12, winning the league or even just making the championship game could result in a CFP berth.
Series: UCLA leads 12–8 but has been thumped its past three visits to Salt Lake City.
Which side freaks out harder in a loss: Utah, which has won 16 straight at home. UCLA fans freak out only over the price of avocados.
Dash pick: Utah 27, UCLA 21. The Bruins are taking a significant step up in competition and hostile environment after facing Coastal Carolina, San Diego State and North Carolina Central in Southern California. This may come down to which young quarterback rises to the big occasion: Utah's Nate Johnson or UCLA's Dante Moore? Or will this be Cam Rising's season debut for the Utes after missing the first three games rehabbing a knee he injured in the Rose Bowl? UCLA does appear to have its best defense under Chip Kelly, which can keep the Bruins in the game if Moore struggles.
Oregon State at Washington State (37)
When: 7 p.m. ET
Line: Oregon State by 2.5
Records and AP rankings: The Beavers (3–0) are No. 14. The Cougars (3–0) are No. 21.
At stake: The Pac-2 championship! These are the last two members of a dying league, so the winner of this game can claim something the 2024 quitters cannot.
Series: Washington State leads 56-48-3. The Beavers' win last year snapped an eight-game losing streak to Wazzu.
Which side freaks out harder in a loss: Oregon State, which started the season ranked and was The Dash's preseason pick to win the Pac-12.
Dash pick: Oregon State 38, Washington State 31. Don't let this game get shoved off your radar—it should be a really good one. Quarterback Cameron Ward is showing what the 2022 hype was about when he transferred to Washington State from Incarnate Word, throwing for 990 yards with nine touchdowns and no interceptions through three games. The Beavers counter with what might be the best defense in the conference and a potent running game in support of QB D.J. Uiagalelei.
Coach Who Earned His Comp Car This Week
Billy Napier (38), Florida. Napier regained a lot of slipping popularity in one big swing Saturday night in The Swamp by taking down Tennessee in a startling upset. He'd lost six of eight games against FBS competition before the Volunteers came to town and needed something to change the narrative about his tenure. Maintaining a nine-game winning streak at home against a disliked rival did that, and restored optimism about the rest of the season ahead.
Coach Who Should Drive the Bus to Work
P.J. Fleck (39), Minnesota. Here's what Fleck did in the fourth quarter at North Carolina on Saturday while trailing the Tar Heels by 11 points: punted from the North Carolina 43 on fourth-and-9, then punted from the Minnesota 40 on fourth-and-3. At some point, you have to try to win the game, right? Of course, it's understandable that Fleck had no faith in his team's passing game, which is last in the Big Ten in efficiency by a wide margin.
That continues a trend. Minnesota threw 31 touchdown passes in 13 games in 2019. In the 36 games since then, it has thrown 32 TD passes. Fleck's passing game left town with Tyler Johnson and Rashod Bateman, and it hasn't come back.
Point After
The Dash kept it local over the weekend, but that didn't mean going beerless. When thirsty in Louisville, The Dash recommends a Butchertown Sunrise IPA from Ten20 Craft Brewery (40) at any of their three locations, but the patio in Anchorage is especially delightful in the perfect weather of September. Order one and thank The Dash later.
First Quarter: Deion's Great Expectations | Second Quarter: Coaches As Instigators | Third Quarter: The Unranked Unbeatens